Designed to offer a personalized experience, our Touch Screen Smartwatch lets you customize your device to match your style. With 10 sets of themes to choose from, you can change the look of your smartwatch to suit your mood or outfit. 
Feature:
1. 1.2-inch full circle and full touch, main control 8763E
2. call, music, phone reminder push, SMS reminder push, WeChat reminder push, QQ reminder push, exercise record (step counting, mileage, etc.)
3. sleep monitoring, sedentary reminder,Calorie counting, stopwatch, bright screen by raising hand, dynamic heart rate, blood pressure, vibration, more than 100 sports modes
4.10 sets of themes, remote camera, music control, smart alarm, weather forecast,Multi-dial switching, WeChat sports, female menstrual cycle.
Specifications:
| | | | |
| --- | --- | --- | --- |
| Outline | 40.5*10.65mm | Display | support |
| Strap material | Silicone strap/steel strap | Type | IPS TFT |
| Weight | Single-head silicone strap 40G, complete set 150G/single-head silicone strap 60G, complete set 170G | Size | 1.2"inch |
| Pacjing Size | Color box size 180*75*29.8mm; outer box size 38.5*37.5*16cm | Resolution | 240*240 |
| Box&Weight | 50 sets in a box | Touch Panel Support? | support |
| Accessory | One smart bracelet, one charging cable, one manual | Type | full screen touch |
| Color | gold, silver, black | Meterial | tempered glass |
Accompanied by convenient lifeHere! It's called a smart watch
Versatility can match my face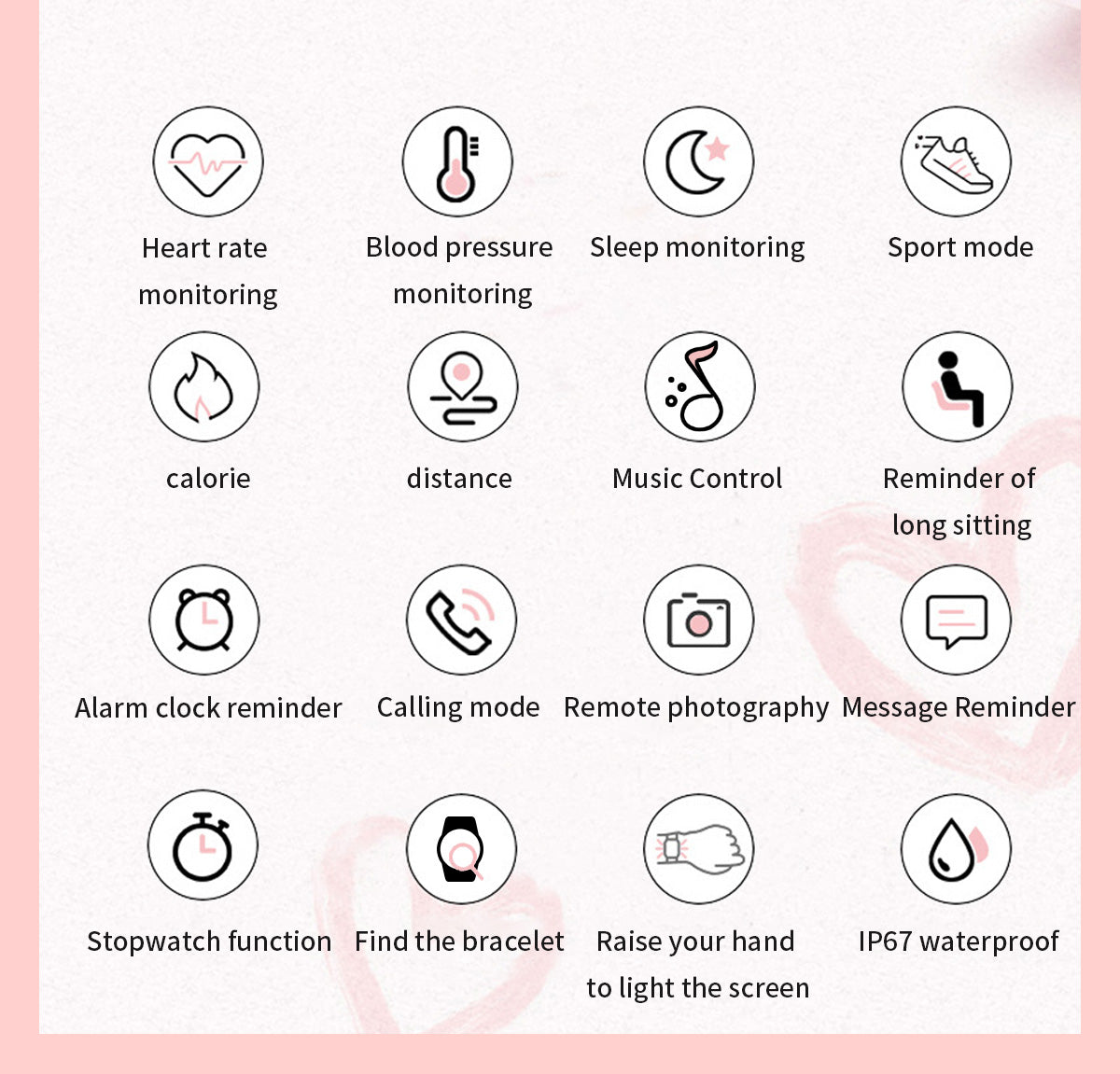 HD full touch screen
Small and light body, showing the beauty of a lady.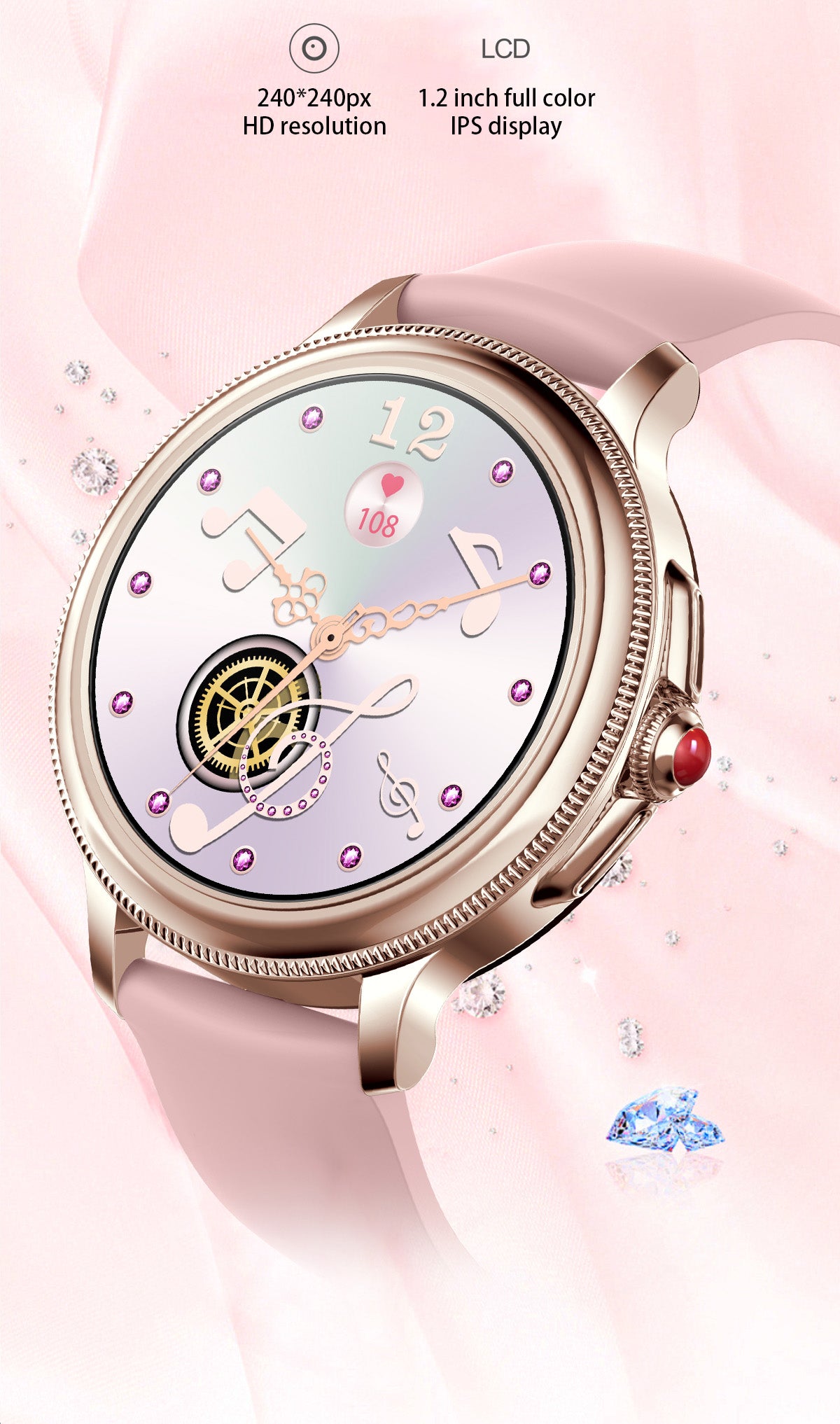 Bluetooth callIt's convenient to answerand make calls
The watch is connected to the mobile phone throughBluetooth. When the mobile phone calls, you cananswer or reject the call thuough ihe watch, or youcan make a call directly through the watchto facilitate communication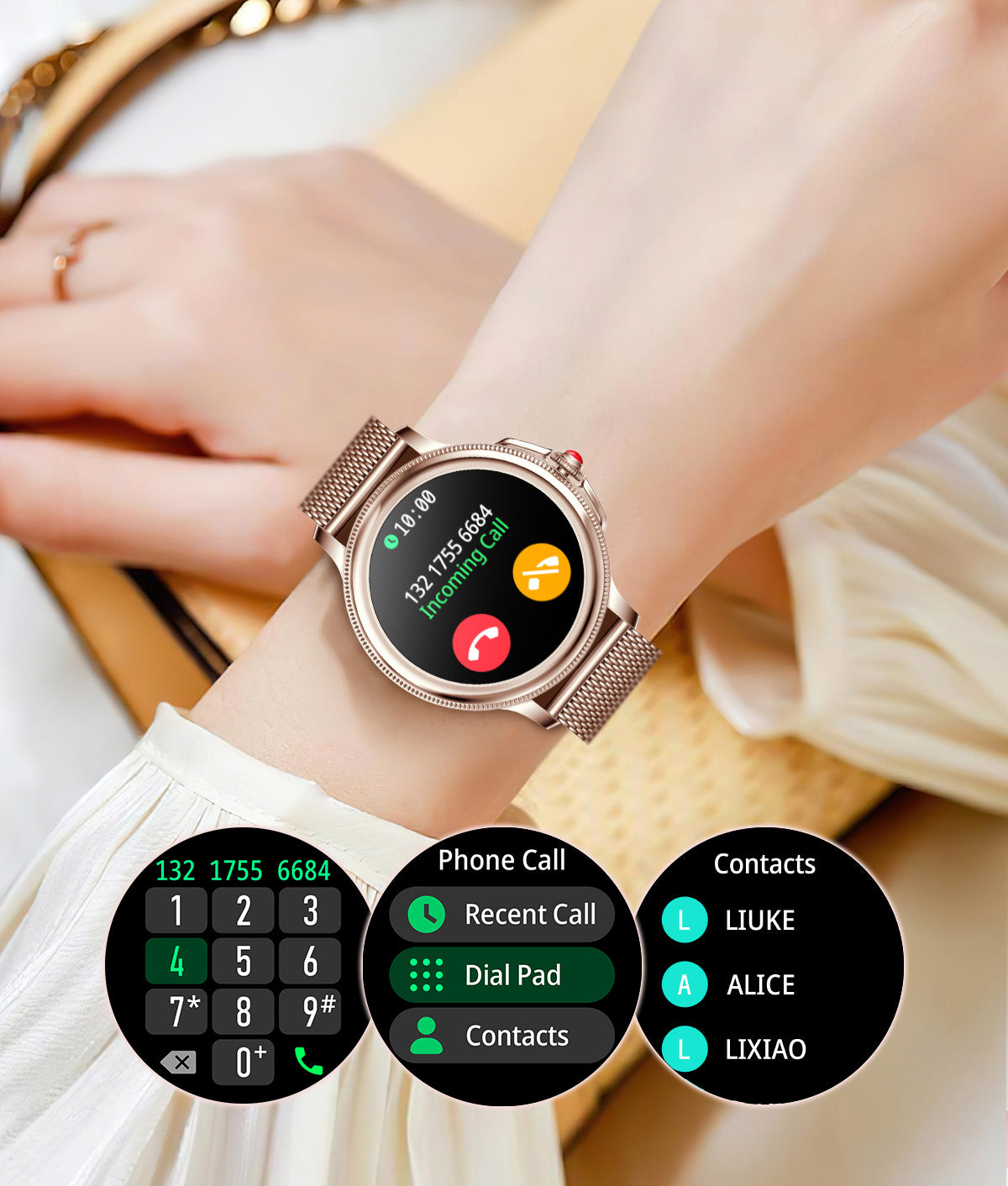 Condensing TimeArt to beauty
Display details are sharp and vivid, built with qualitycraftsmanship. Slim and warm, soft and elegant.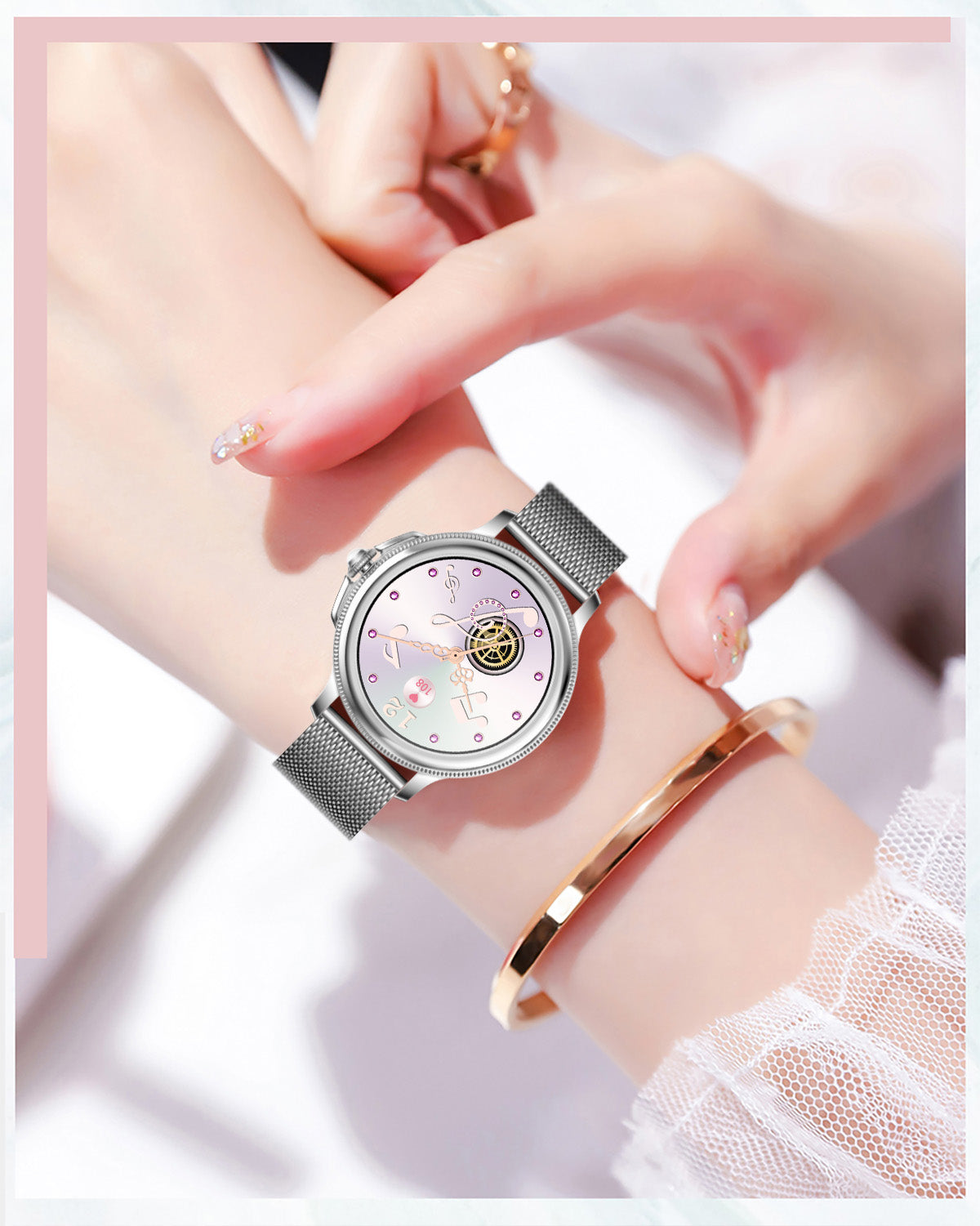 From now on,you have me to care foryou
Your health care expert
The hardware and algorithm are fully upgraded toprovide 24-hour heart rate health monitoring.Understand the heart rate change curve and getfamiliar with your every heartbeat.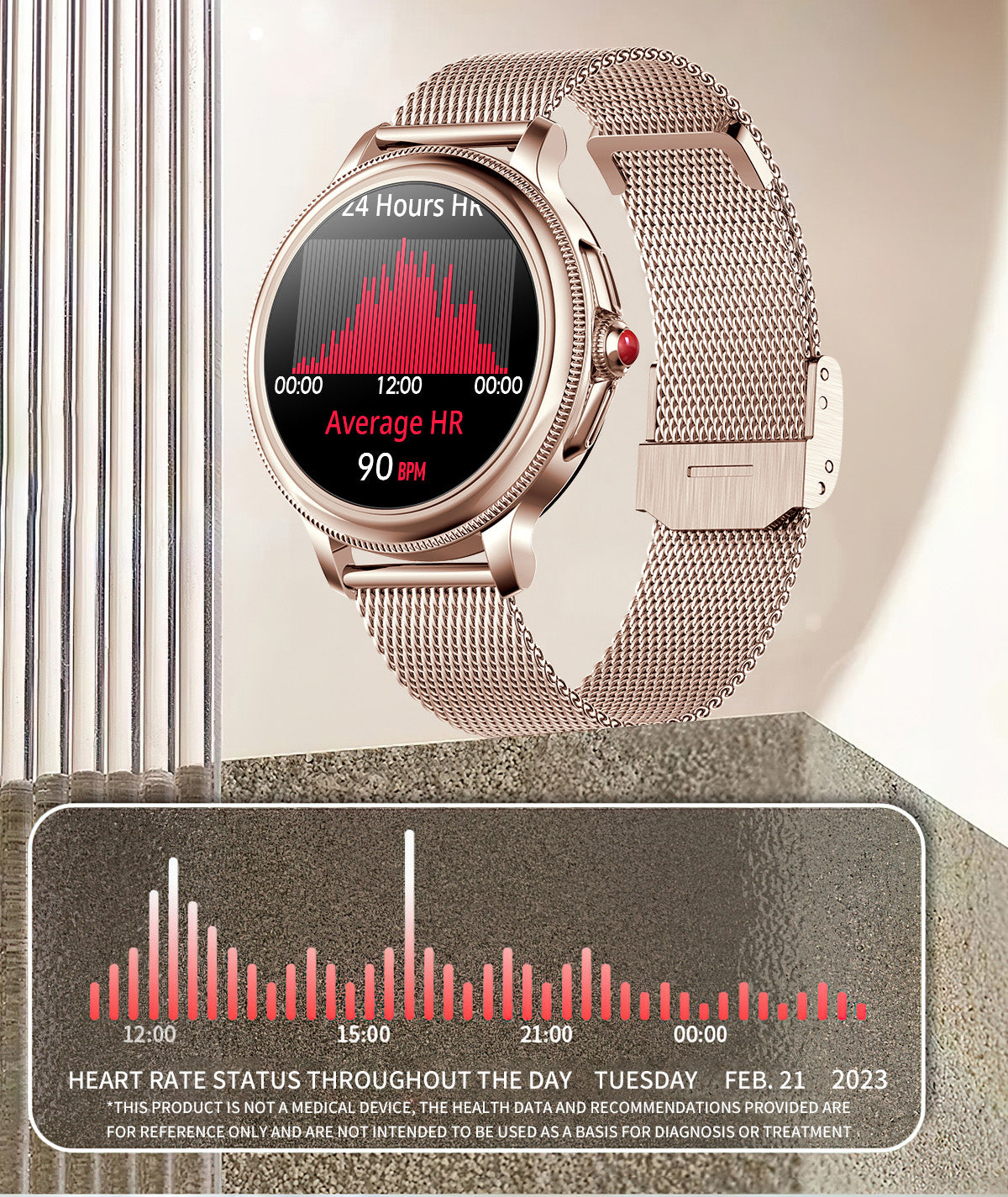 Intelligent BloodPressure Oximetry
MONITOR BLOOD PRESSURE, OXYGEN SATURATION, ETC.ANYTIME, ANYWHERE TO GUARD YOUR HEALTH AROUND THE CLOCK.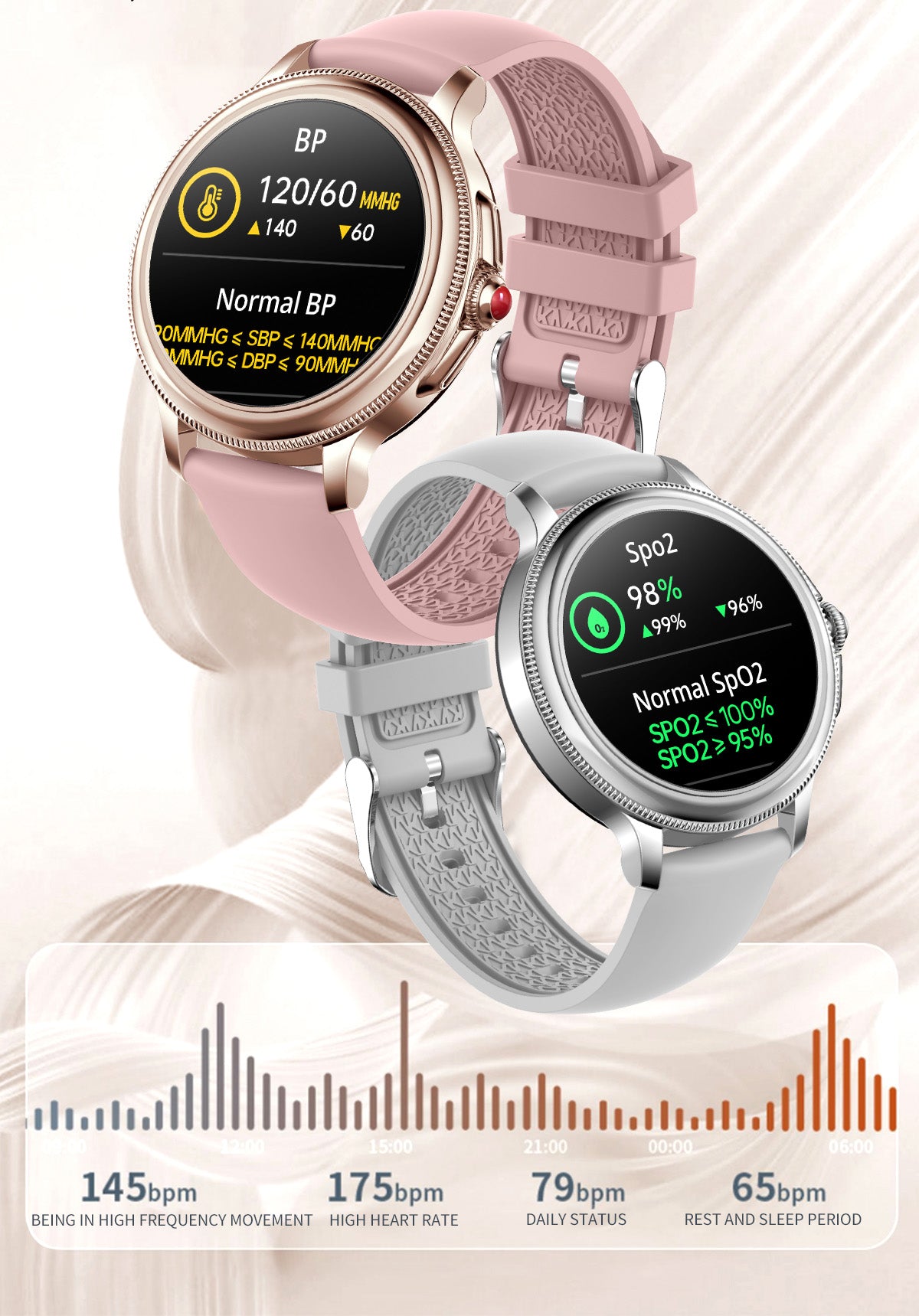 Social messages Instant alerts
After using the watch, I no longer get complaints from
my friends that "it's a turnaround for me to return his messages".Because now the messages are returned in seconds,and the phone rings and goes through.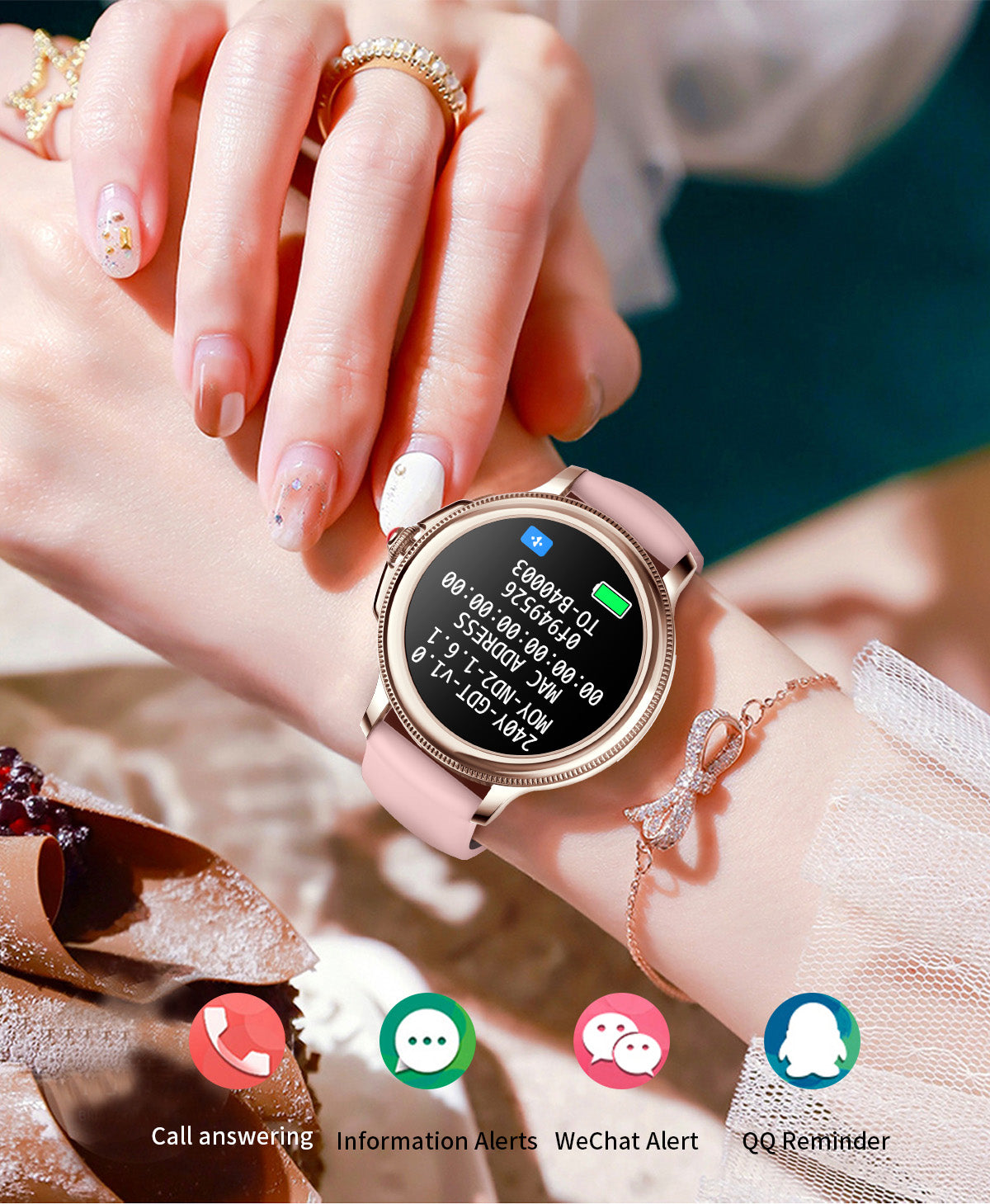 Variety of stylesdefined by you
There are many styles of dials inside, long press toswitch dials, you can also go to APP online to downloaddials, switch dial styles with matching, having thiswatch is equivalent to having many fashion watches.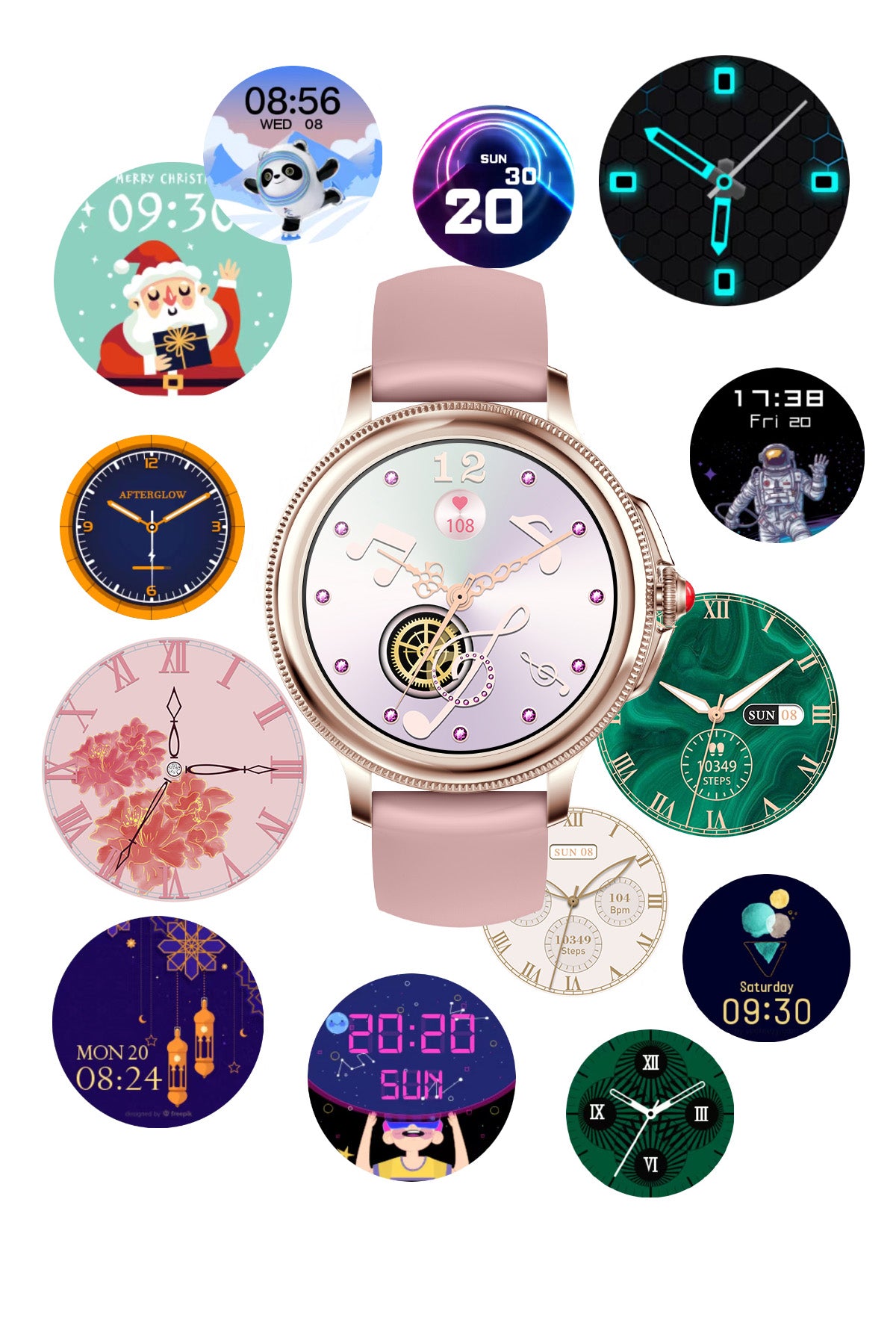 Goddess Exclusive Features
Built-in female cycle function, different periods will showdifferent status tips. It is more understanding andconsiderate than your boyfriend.
Pregnancy Ovulation period Menstrual period Safety Period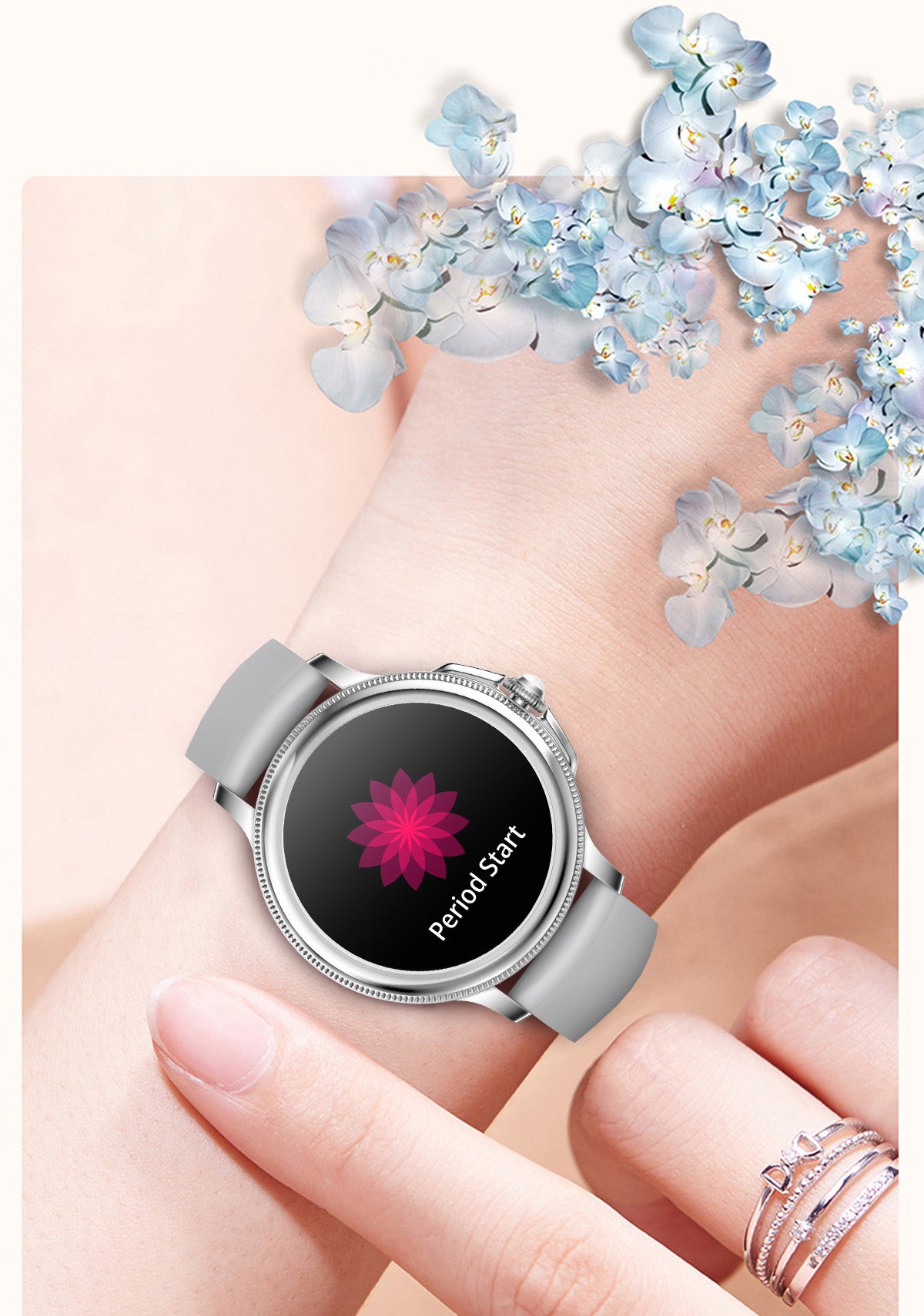 Multi-sport mode
Built-in 100+ sports modes, wear the watch directly for sportsThe watch can record all your sports data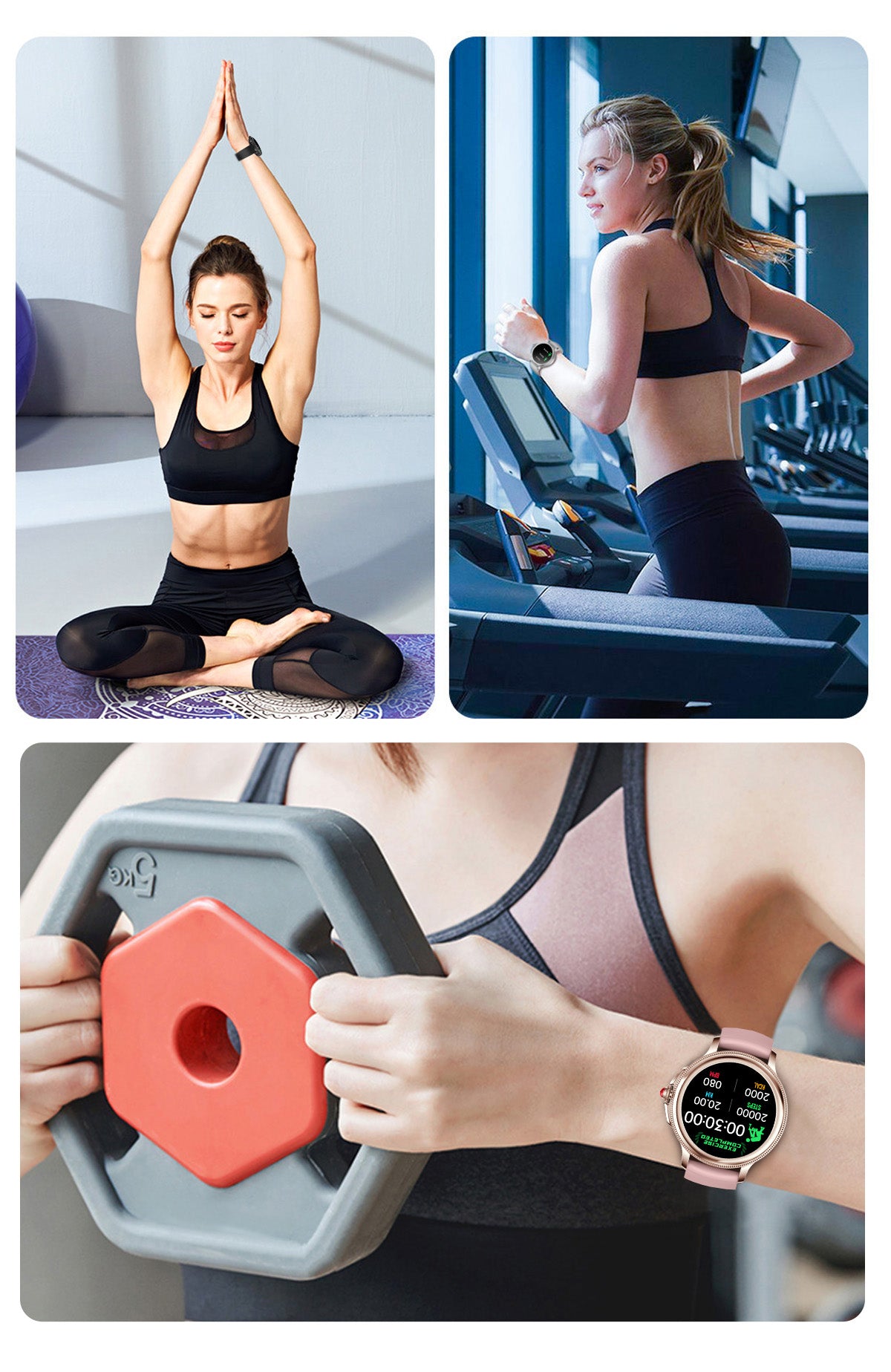 Play music as you like
When your phone is playing music, you can switch betweenyour favorite music tracks, switch up and down, and listento what you want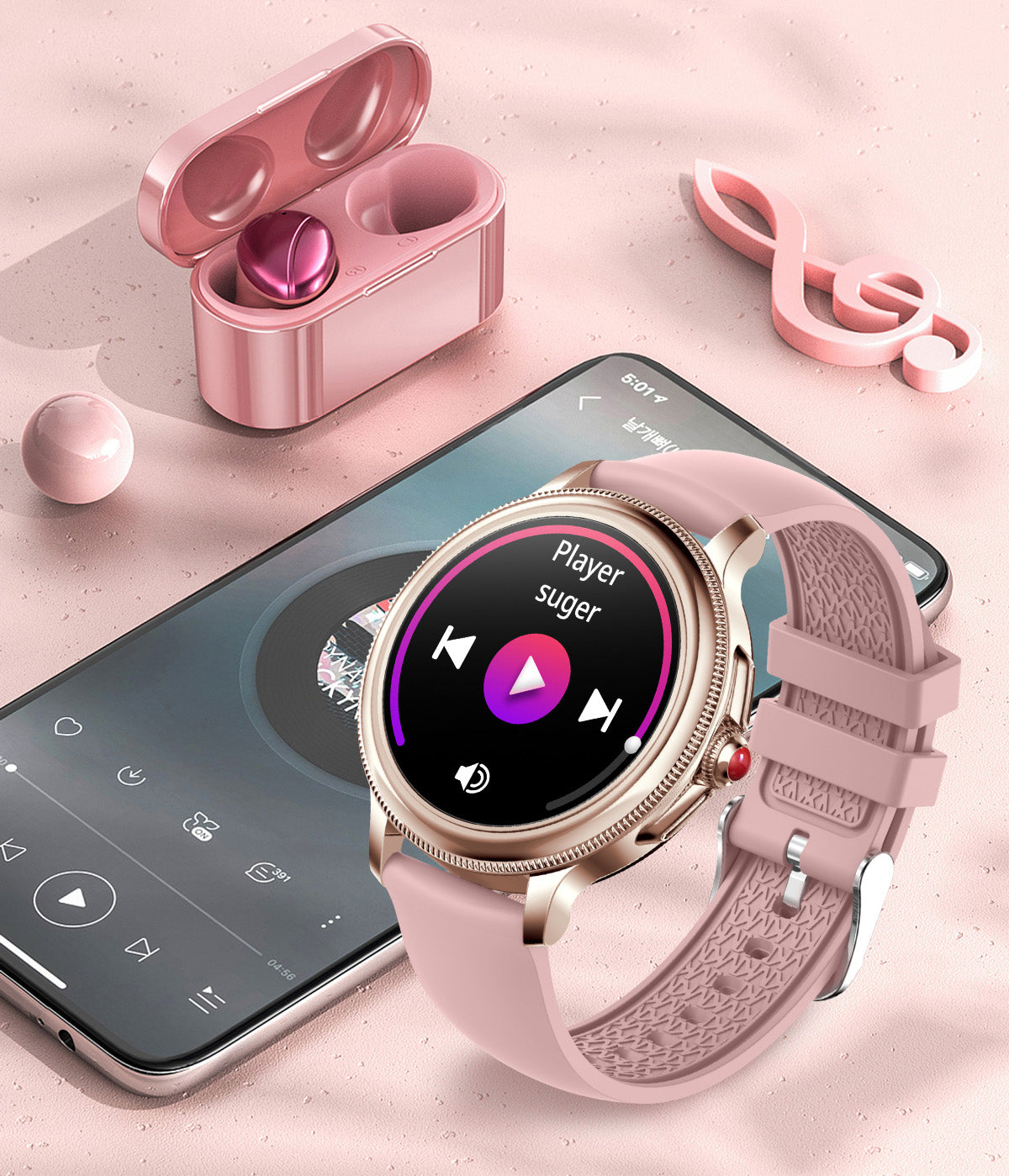 "Science of Sleep"Day to Night Attentive Duty
Nighttime sleep monitoring system enhancement,scientific analysis of sleep quality Understand physicalfatigue and provide suggestions forimprovement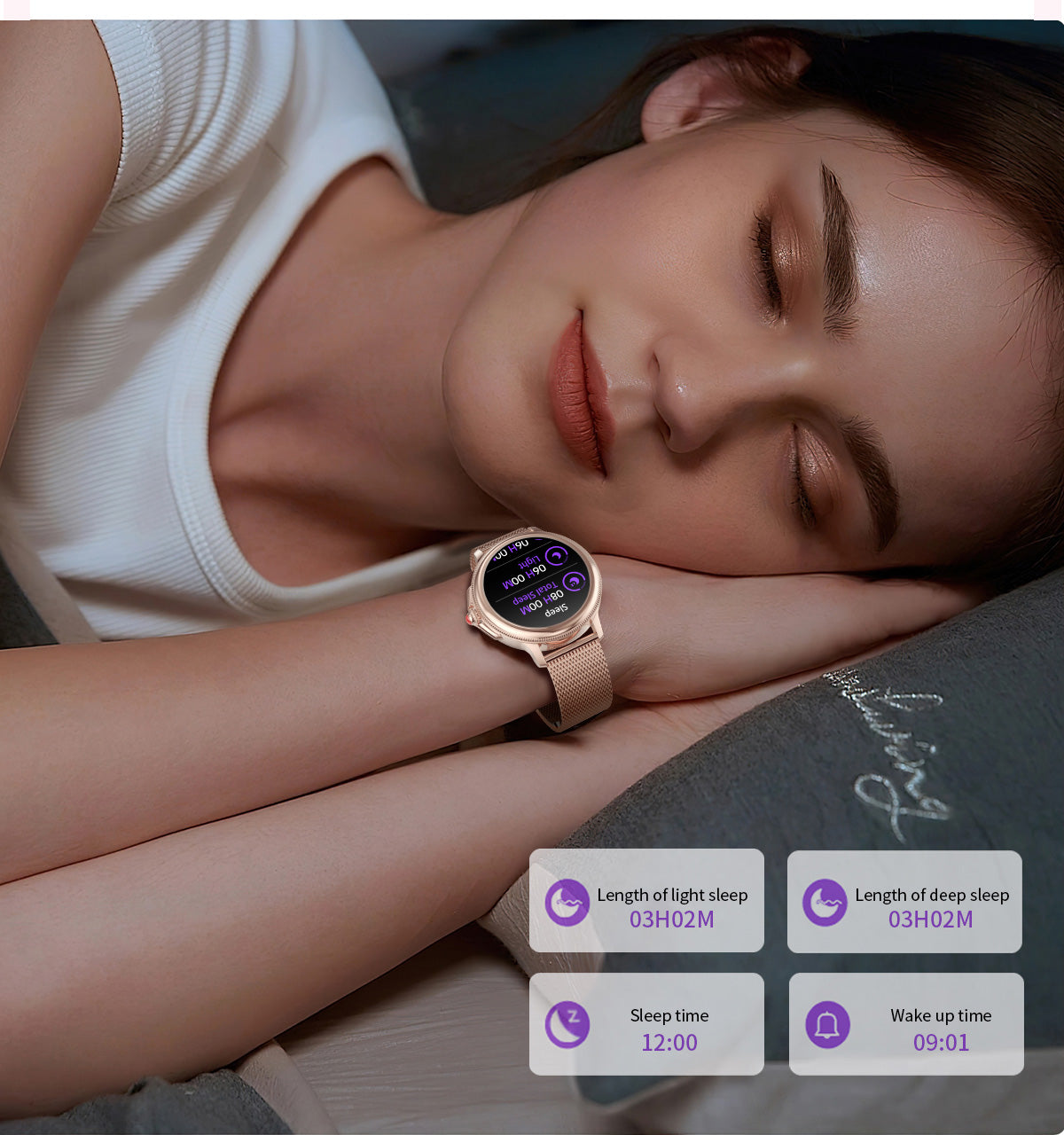 IP67 waterproof -
New upgrade sealing technology, waterproof better,daily wear hand washing, the Rain, easily copewith a variety of life scenarios.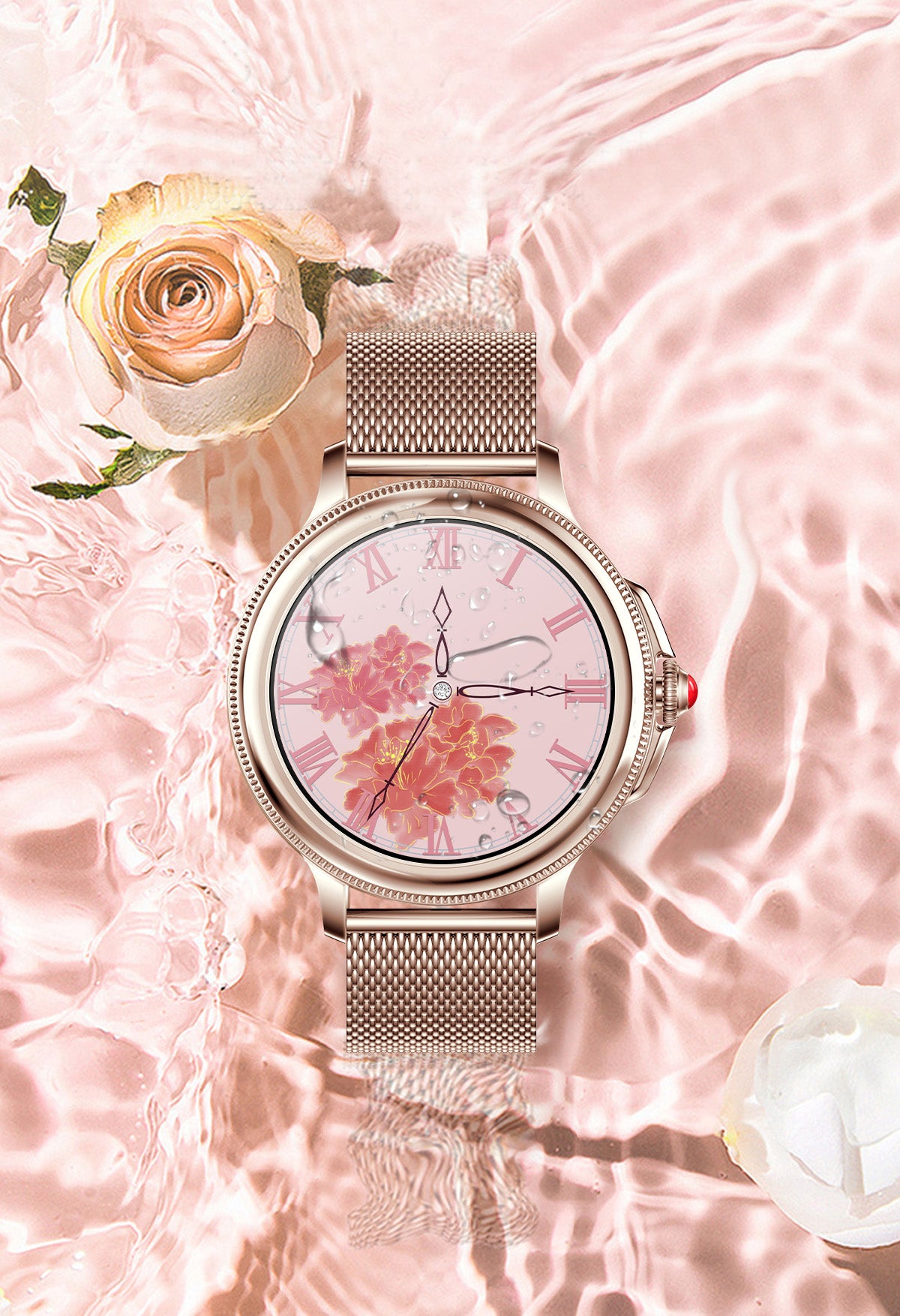 Magnetic contact charging
Convenient and fast, full in 80 minutes.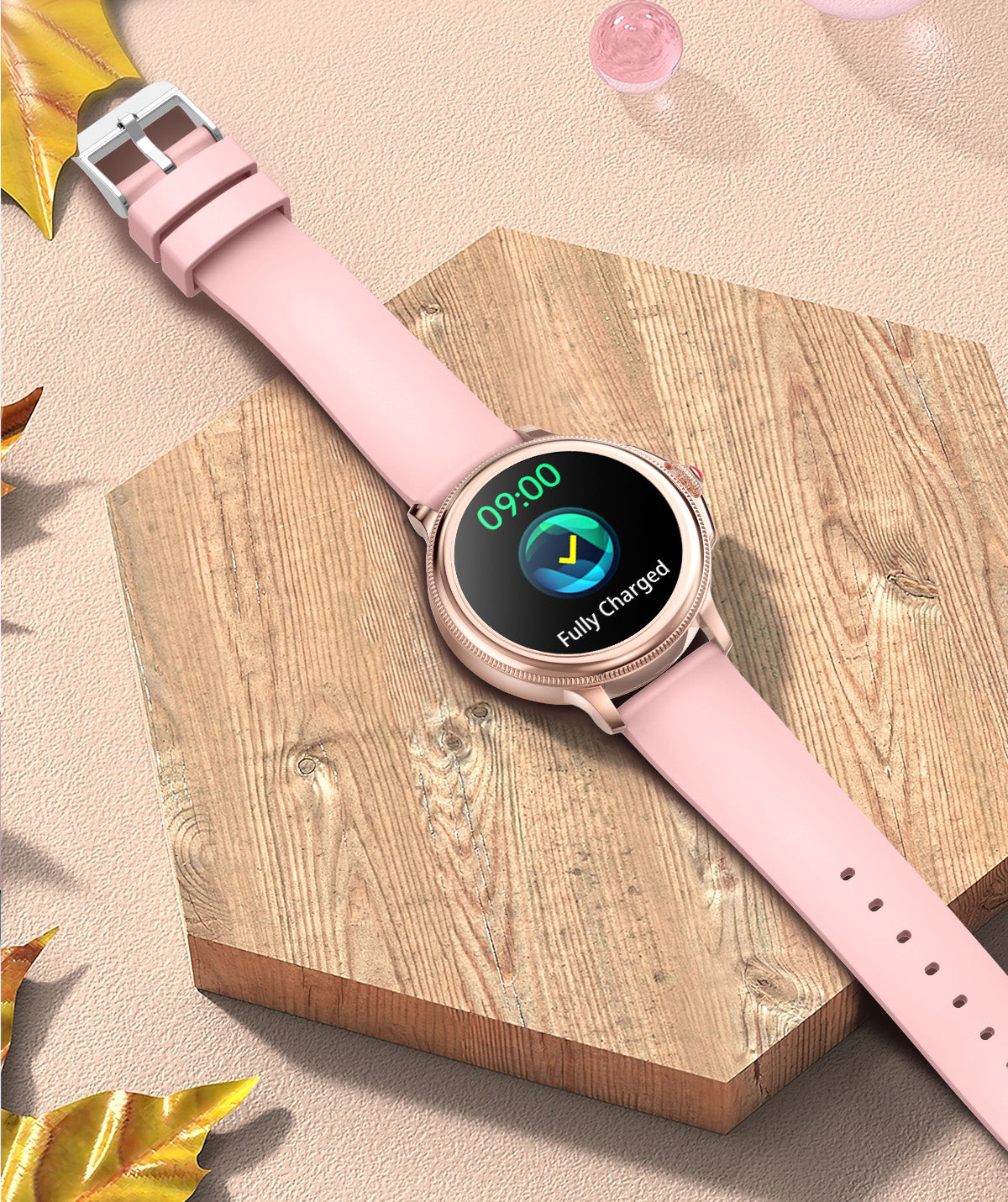 Thoughtful design and features
Get more life experience