You can seamlessly integrate health data with your social life. WeChat Motion Sync allows you to sync your exercise data with the WeChat app, making it easy to share your achievements and compete with friends. 
Feature:
ECG electrocardiogram
Independent and accurate blood oxygen measurement
Precise body temperature measurement
Real-time heart rate measurement
Photoelectric automatic blood pressure measurement
Sleep monitoring
Respiratory rate measurement
Heart rate alarm
Family and friends remote care
Multi-sport mode
Exercise measurement (step/calorie/distance
Sedentary reminder
Raise wrist to brighten the screen
Anti-lost reminder
Message push
Call reminder/reject
OTA upgrade
Music control
7-day rolling storage of historical data
Remote control camera
WeChat Motion Sync
Multiple dials
Alarm clock
non-invasive blood sugar
Watch language support: Chinese, English, Japanese, French, German, Italian, Spanish, Russian, Portuguese,
APP language: Chinese, Traditional, English, Japanese, German, Russian, Italian, French, Spanish, Portuguese, Vietnamese, Korean, Persian (Arabic)
Specifications:
Features
ECG electrocardiogram, measure blood pressure, blood sugar, blood oxygen, heart rate, body temperature
Display
Tempered glass+IPS HD TFT 1.47 inches 172*320
Shell material & color
Shell: zinc alloy + vacuum plating (black, silver)
Bottom shell: PC+ABS+Medical grade 316 stainless steel sheet
Strap: TPU strap (black)
Battery capacity
Pure cobalt lithium battery 200 mAh with 7-10 days, standby for 30 days (measured)
Compatible System
Android 4.4 and above,iOS 8.2 and above
Touch
CST816D full screen touch
Processor (MCU main control)
5515I0NDA_QFN56
Vibration motor
Mute vibration
body temperature sensor
NTC
Bluetooth
5.1 BLE (low power consumption)
Photoelectric PPG Analog Front End (PPG AFE)
Osram SFH2201
Physical buttons
none
ECG Analog Front End (ECG AFE)
Goodix GH3220
Charging interface
Magnetic charging with short circuit protection
Accelerometer
STK8321 3-axis sensor (G-SENSOR)
Charging time
2-3 hours
NEW TREND
A NEWTRENDON THE WRIST
ECG+HRV
ECG/Blood glucose/Blood pressureBlood oxygen/Heart rate/Sleep/Temp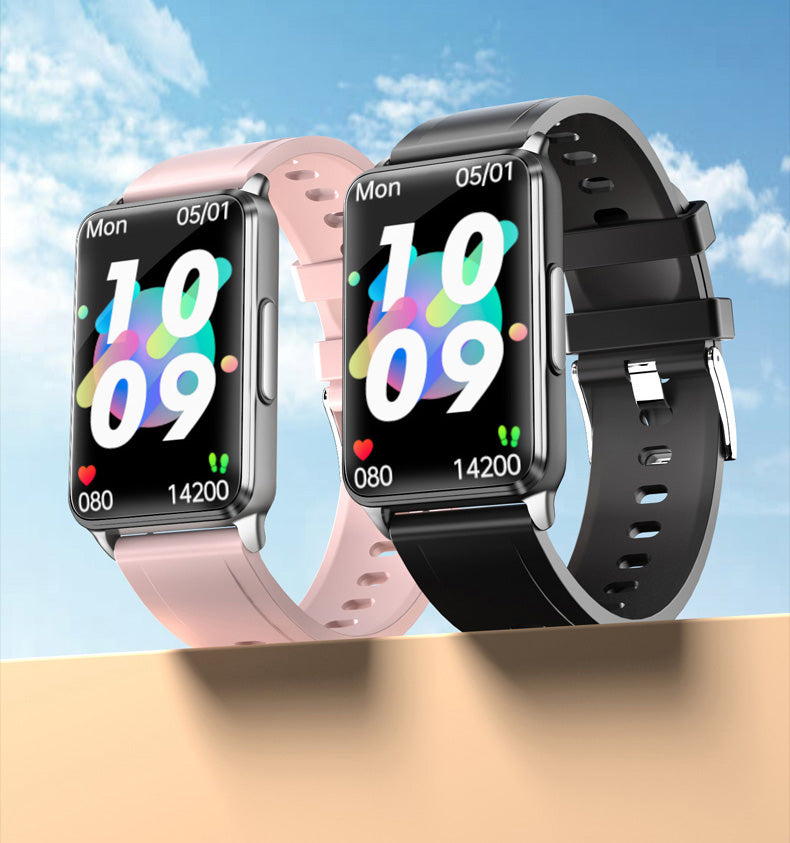 NEW TREND
healthFocus onmonitoring
Your health steward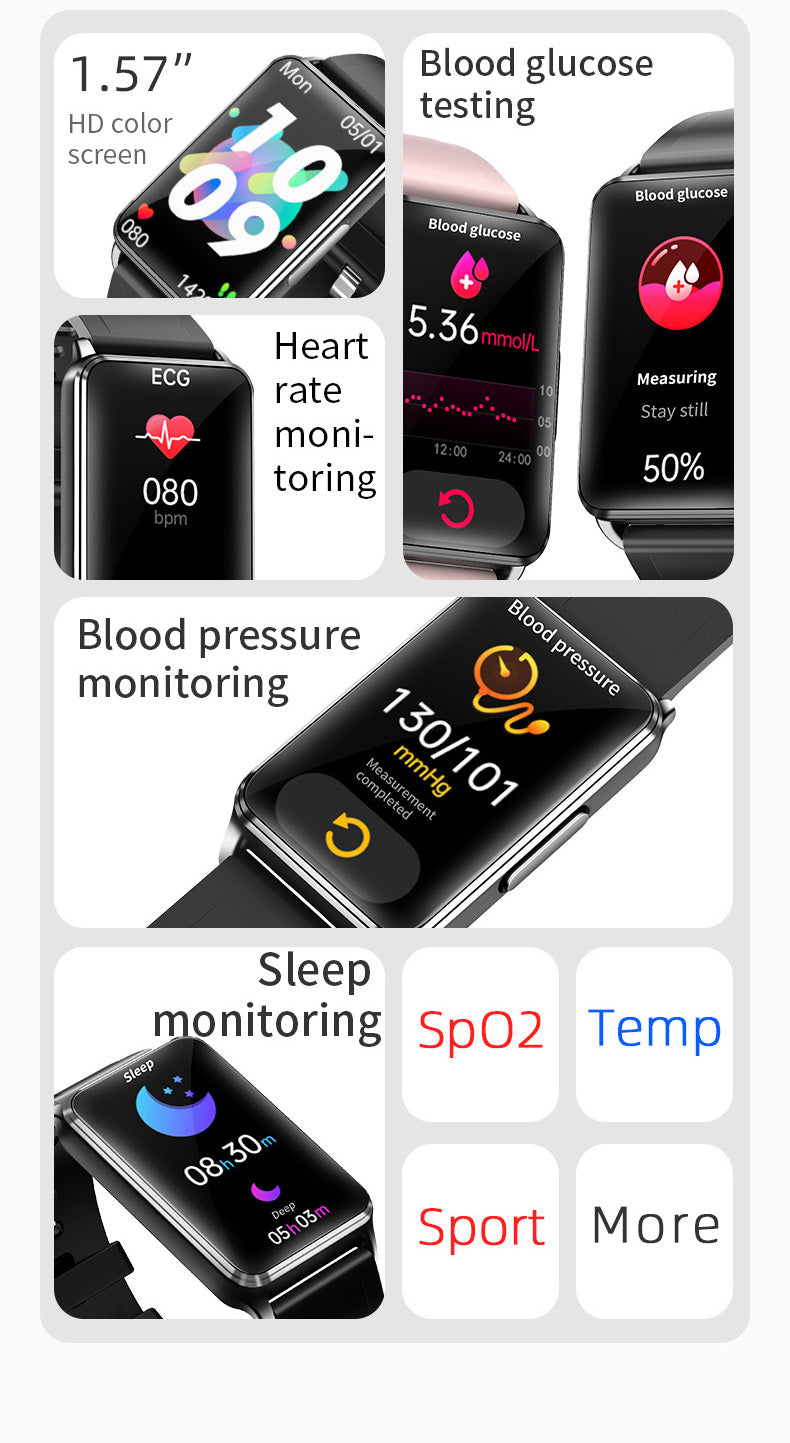 HIGH

DEFINITION
HD color screen1.57"
CUSTOM
Custom picturewatch face
Support photo dial
Cool dial, take every wonderful moment intopicture.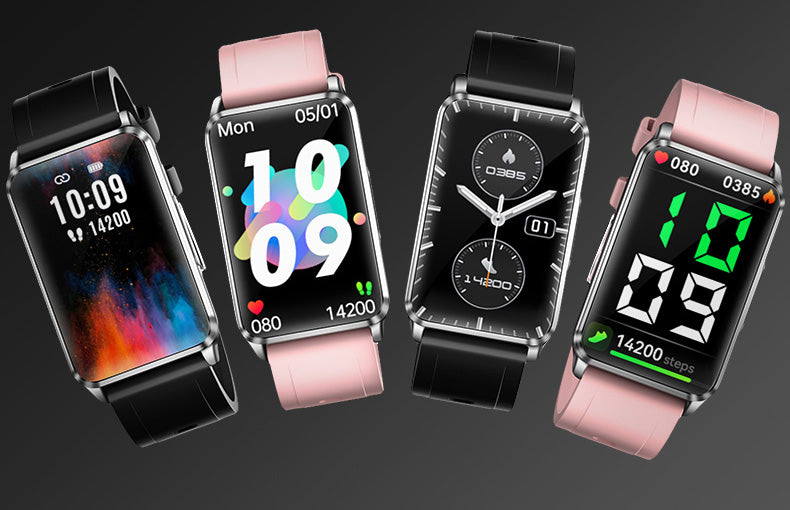 NONINVASIVE
Non-invasiveblood glucose testing
High blood sugar will easily lead to high blood pressure,as high blood sugar can lead to blood sugar disorders,which can easily lead to vascular disease, then resultingin increased high blood pressure.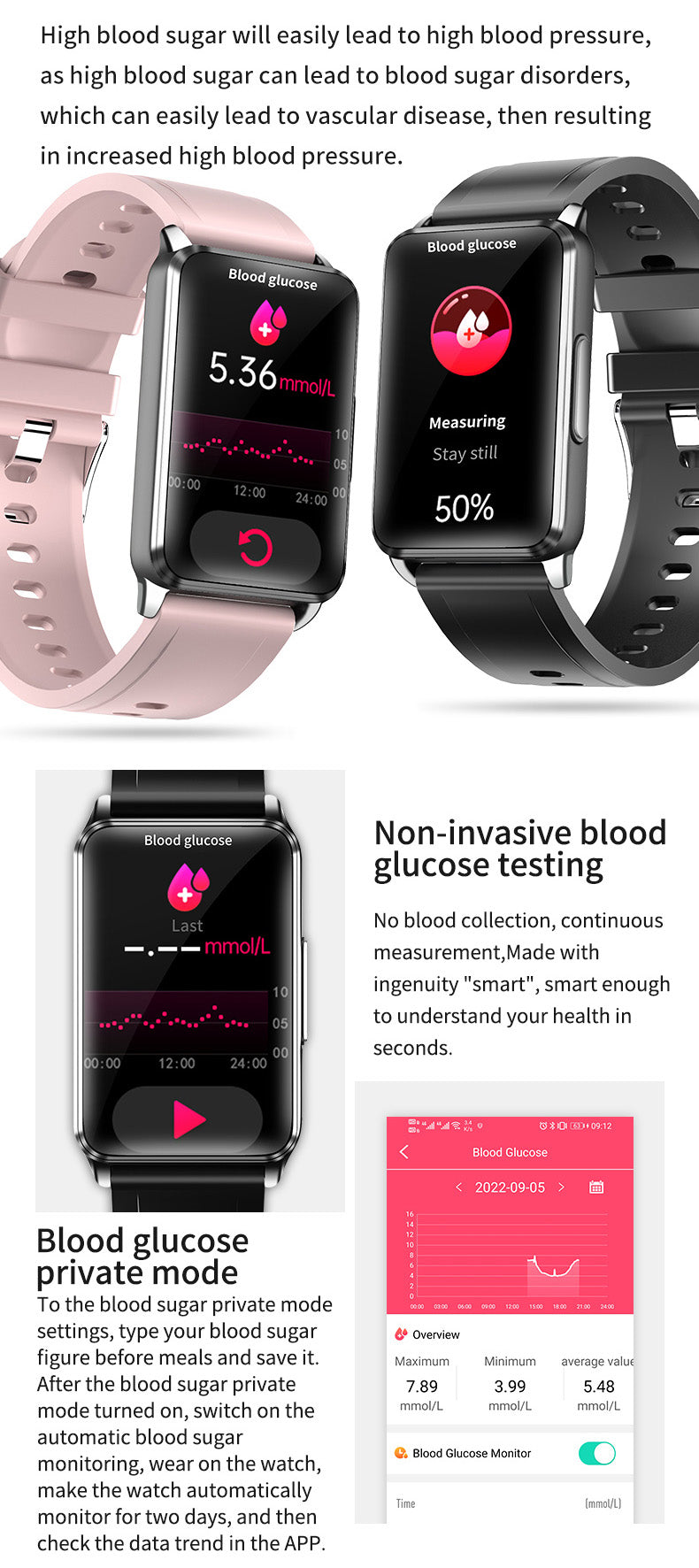 ECG Test
ECG recorder
Collect ECG at anytime and anywhere,13 typesof abnormal signals can be monitored such asatrial fibrillation, bradycardia and arrhythmia
etc. When the heart rate is abnormal, the systemto record abnormal ECG signals, analyze anddiagnose the heart health.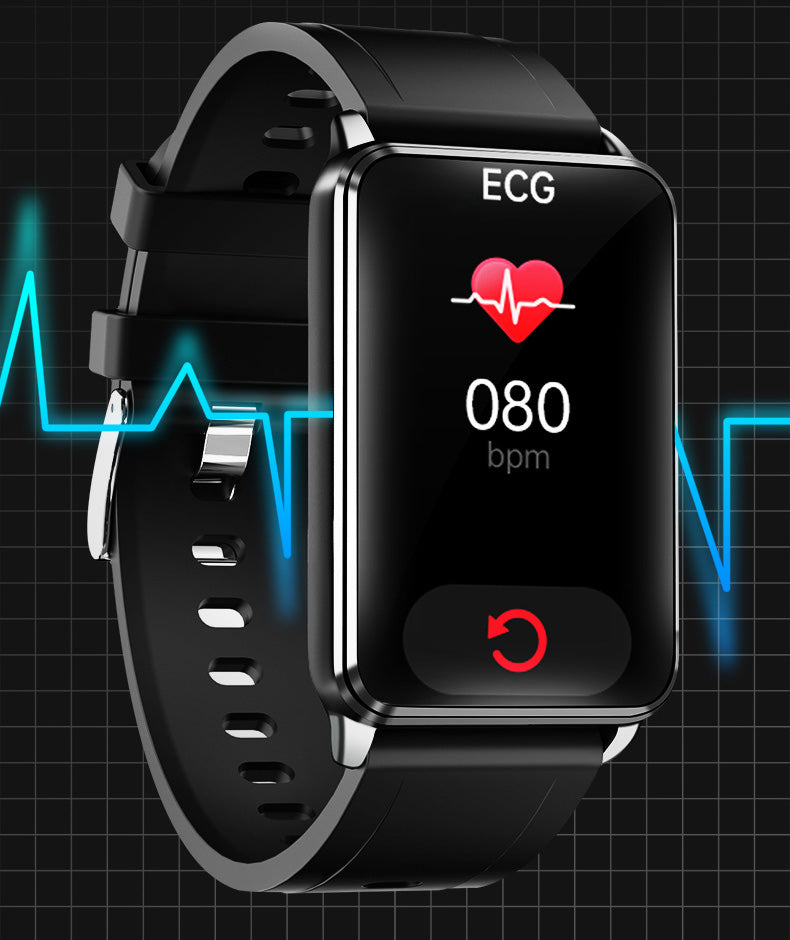 ELECTROCARDIOGRAM
ECG disease symptomscreening
Wrist ECG test function, smart and portable to measure atany time,ECG sensor according to the I lead standard,superconducting powder metallurgy technology to collectthe heart's ECG waveform (ECG). The detection principle arethe same of the hospital's machine.discover abnormalitiesin time to assess sudden risks.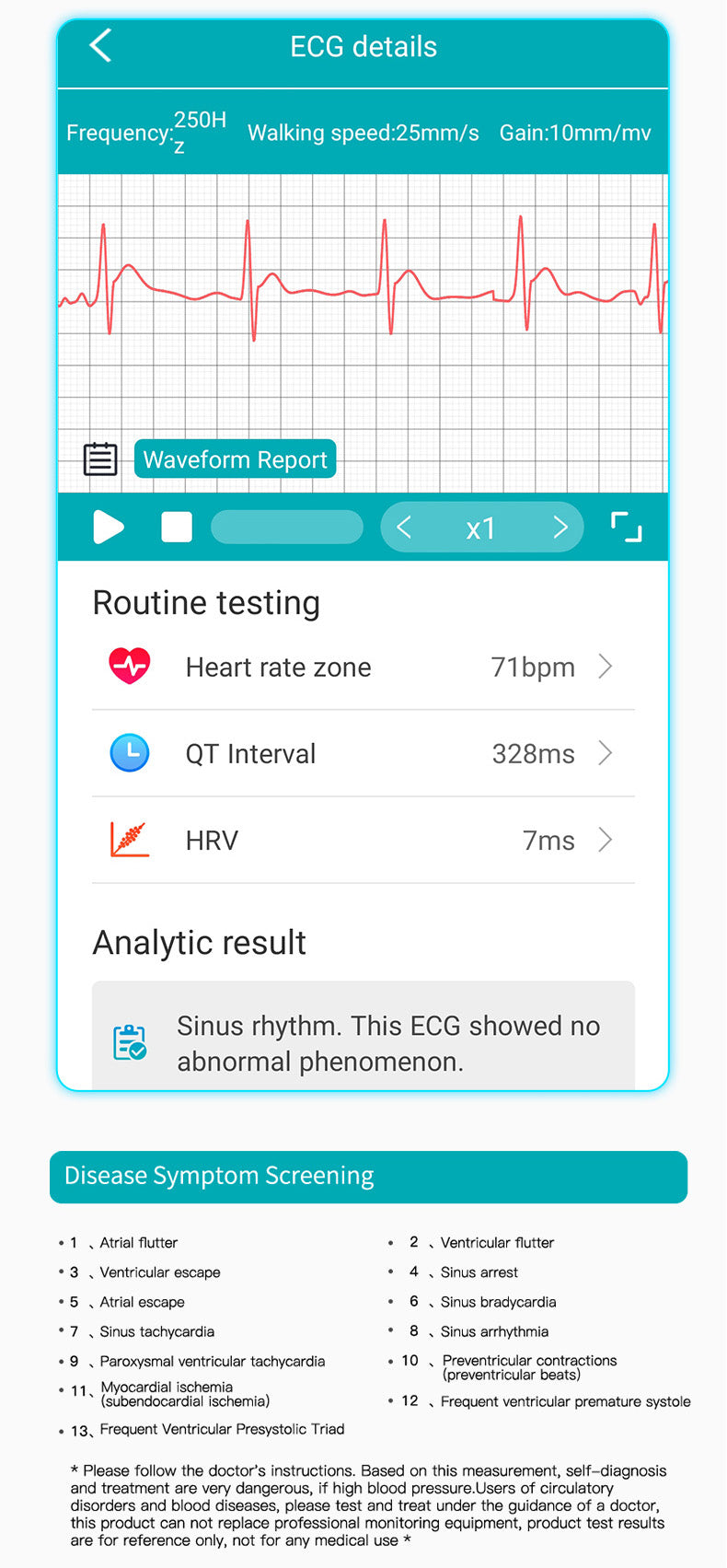 HRV tracking monitoring
HRV is the heart rate variability, which refers to the
change of the heartbeat cycle.lt is an important indicatorto judge the ability of neural activity to regulate thecardiovascular system. Highly related to multiplecardiovascular diseases and sudden death.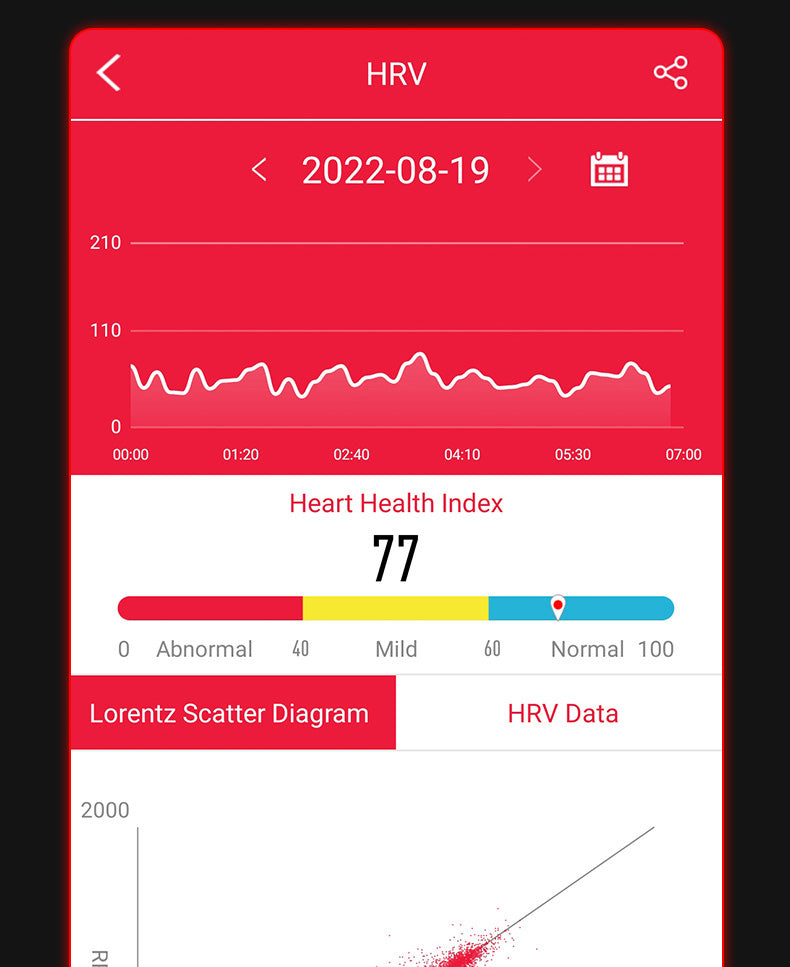 24-hour blood
pressure tap functionkey detection
Do not need to use mobile phone to check the datafrequently. wear the watch to enter the blood
pressure measurement interface.Wait a few secondsto know the current blood pressure.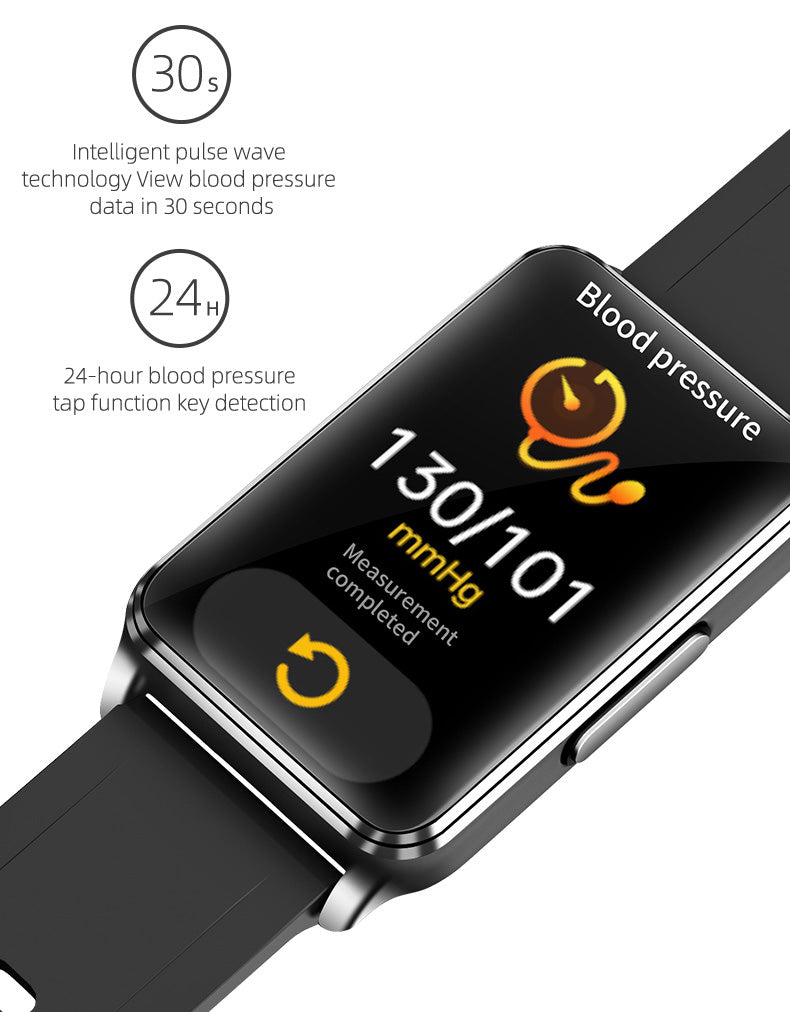 Heart rate healthmonitoring
Early warning of abnormal heart rate
24-hour heart rate monitoring, real-time heart rate
monitoring, higher heart rate warning, always take careof your health, you can check specific data on the APP.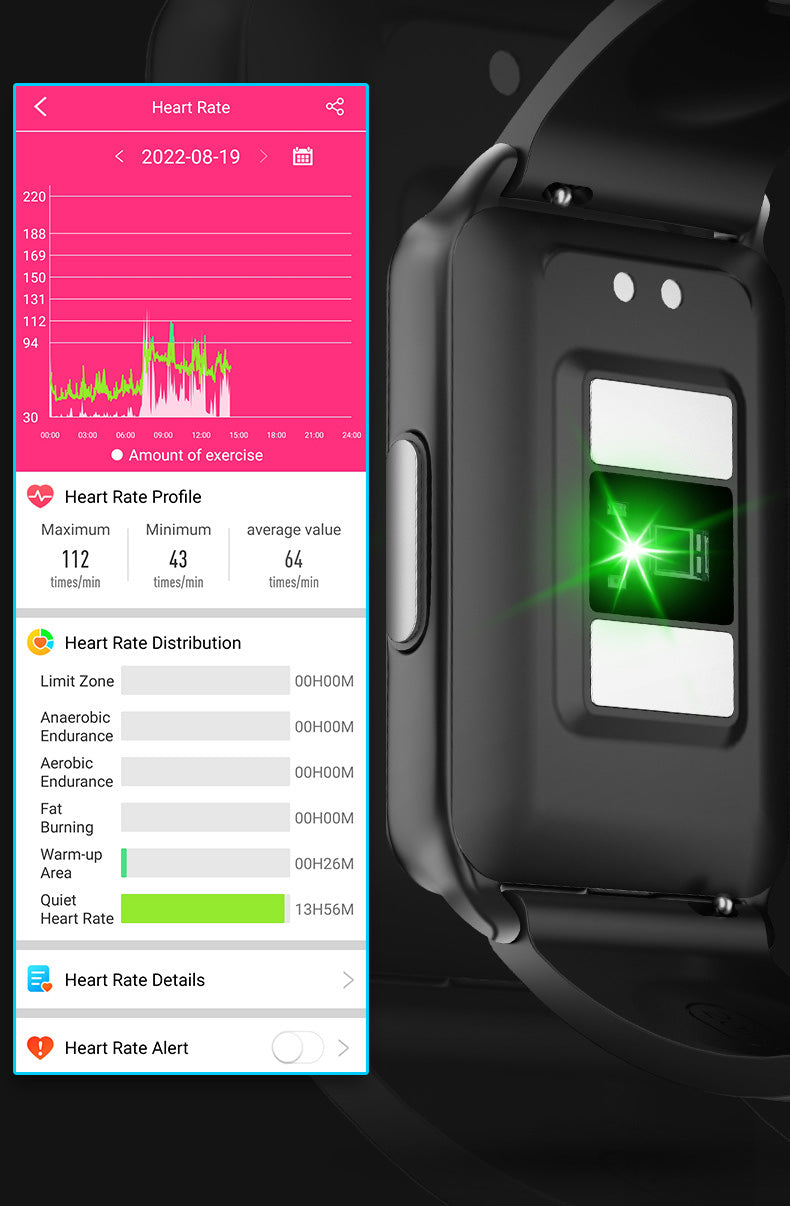 Hypoxic shock wake
Infrared light for measure blood oxygen
Snoring accompanied by short-term apnea when sleeping,main issues is hypoxia.This also can lead to other
complications of hypoxia, severe asphyxia or heart failure.Smart bracelet will automatically and continuously monitorblood oxygenation of the sleeper at night (0-7 o'clock)vibrate during low oxygen risk to remind sleepers to adjusttheir sleepgestures or wakefulness, which can effectivelyguarantee safety.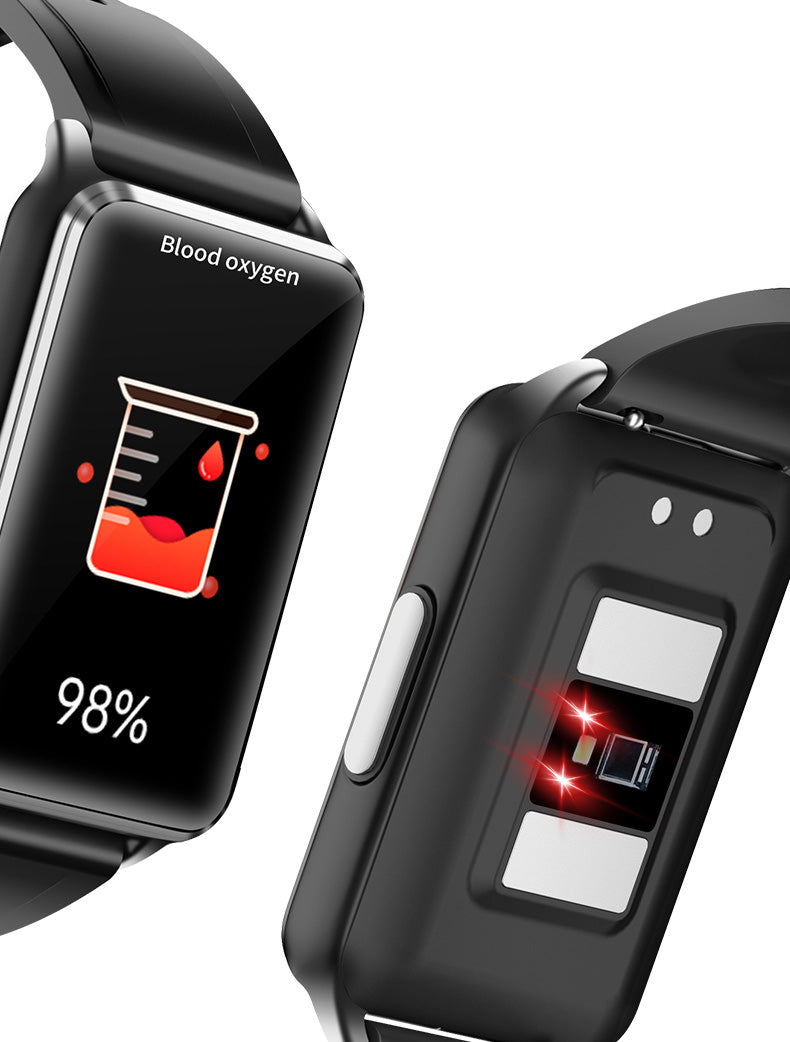 Temperaturemeasurement
High body temperatur warning function
Accurate measurement, high accuracy, history of bodytemperature data can be check, all day temperaturecurve data Real-time synchronization to APP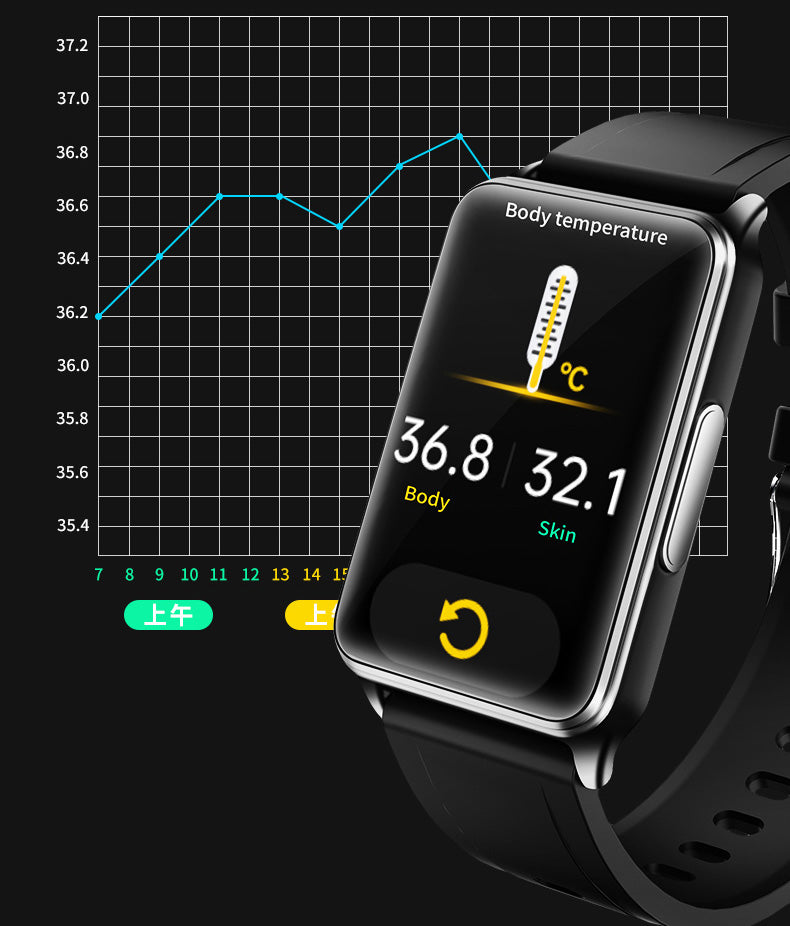 Sleep monitoringand analysis
Monitor sleep quality, real-time heart rate, sleep breathingquality throughout the whole process,According to big dataanalysis,more accurately judge the sleep situation (sleepduration,awakenings times,sleep time, light sleep, deepsleep), score the quality of sleep, help record completesleep information, get a nice sleep night.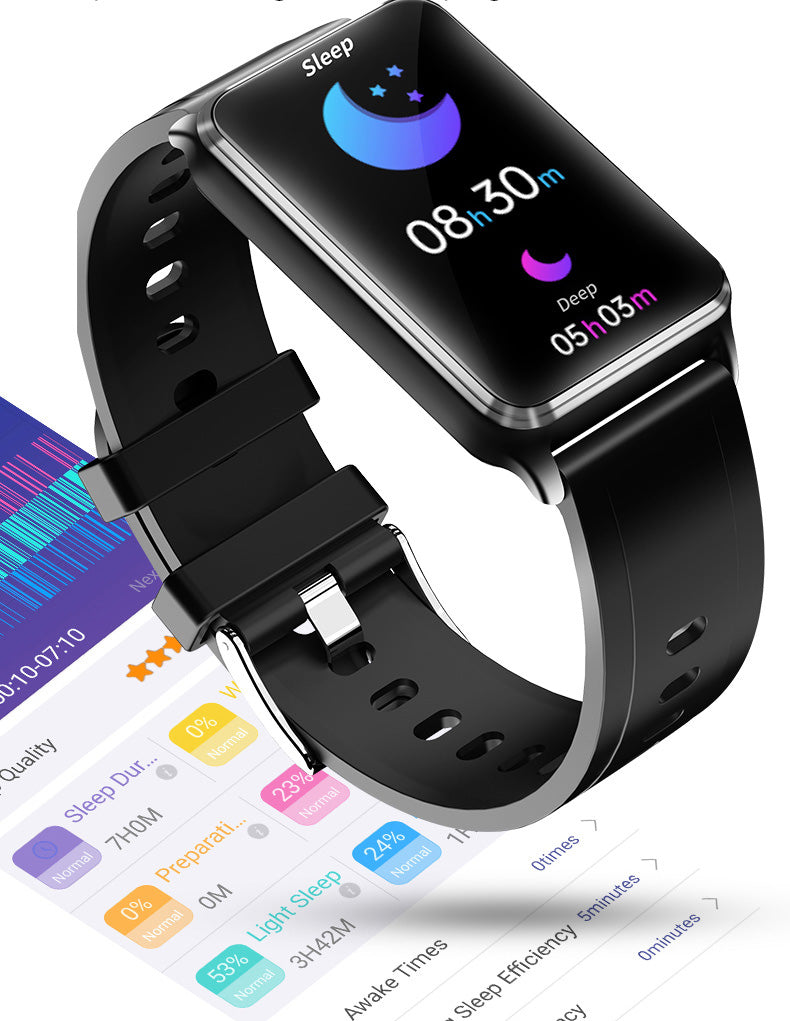 IP67 dustproof andwaterproof
IP67 waterproof standard, effectively prevent sweat andraining,no more worry about water in daily use(but afterin cold water, wash your hands with spraying, please wipeoff the water for keep device dry)
Multi-sports mode
Burn your calories
Support 20 exercise modes, record your time and heartrate during exercise,Calorie and other data, scientificallyadjust the state of exercise.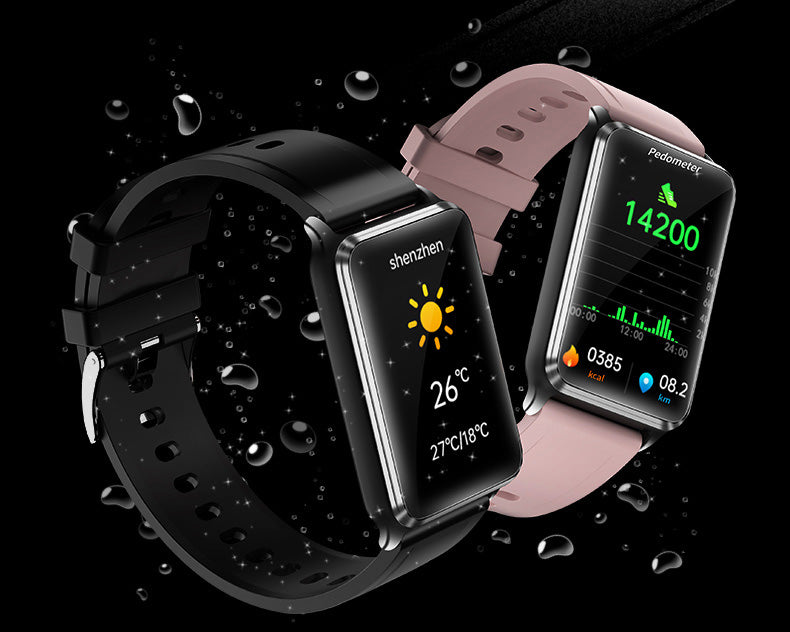 Message/incomingcall functionreminder
Push notifications of incoming calls, text messages,WeChat, QQ, etc on the device.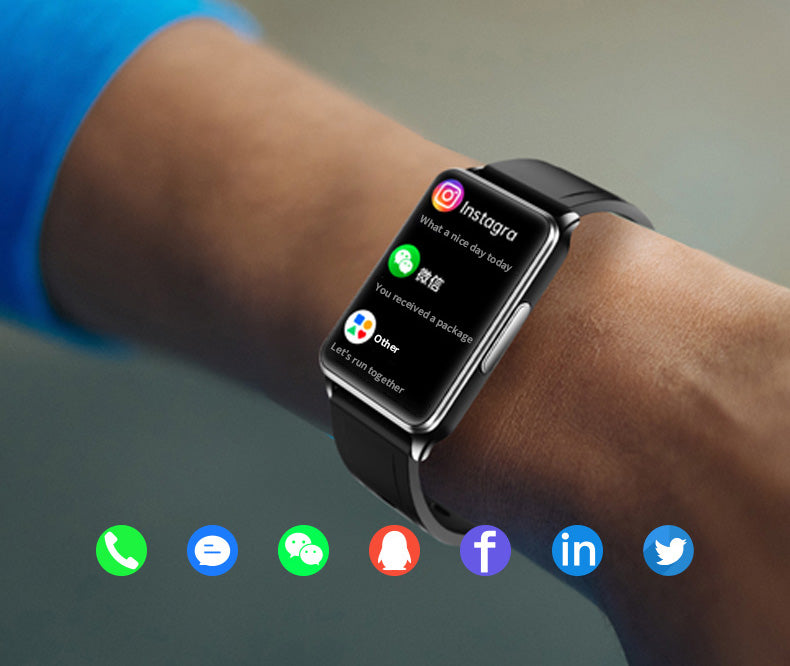 Product parameter
Strengthful and powerful, outstanding in everything.