Packed with features tailored for runners, this waterproof smartwatch is your perfect fitness companion.With the integrated Blood Glucose and Blood Oxygen Monitors, you can monitor your health on the go. 
Feature:
ECG electrocardiogram
Independent and accurate blood oxygen measurement
Precise body temperature measurement
Real-time heart rate measurement
Photoelectric automatic blood pressure measurement
Sleep monitoring
Respiratory rate measurement
Heart rate alarm
Family and friends remote care
Multi-sport mode
Exercise measurement (step/calorie/distance
Sedentary reminder
Raise wrist to brighten the screen
Anti-lost reminder
Message push
Call reminder/reject
OTA upgrade
Music control
7-day rolling storage of historical data
Remote control camera
WeChat Motion Sync
Multiple dials
Alarm clock
non-invasive blood sugar
Watch language support: Chinese, English, Japanese, French, German, Italian, Spanish, Russian, Portuguese,
APP language: Chinese, Traditional, English, Japanese, German, Russian, Italian, French, Spanish, Portuguese, Vietnamese, Korean, Persian (Arabic)
Specifications:
Shell material & color
Shell: zinc alloy + vacuum plating (black, silver)
Bottom shell: PC+ABS+Medical grade 316 stainless steel sheet
Strap: TPU strap (black)
Display
Tempered glass+IPS HD TFT 1.47 inches 172*320
Compatible System
Android 4.4 and above,iOS 8.2 and above
Battery capacity
Pure cobalt lithium battery 200 mAh with 7-10 days, standby for 30 days (measured)
Processor (MCU main control)
5515I0NDA_QFN56
Touch
CST816D full screen touch
body temperature sensor
NTC
Vibration motor
Mute vibration
Photoelectric PPG Analog Front End (PPG AFE)
Osram SFH2201
Bluetooth
5.1 BLE (low power consumption)
ECG Analog Front End (ECG AFE)
Goodix GH3220
Physical buttons
none
Accelerometer
STK8321 3-axis sensor (G-SENSOR)
Charging interface
Magnetic charging with short circuit protection
Noninvasiveblood glucose
Non-invasiveblood glucose
24-hour automatic monitoring
Accurate blood pressure/ECG/Heart rate/Bloodoxygen monitoring/Temperature sleep monitoring/Female cycle/Multiple motion modes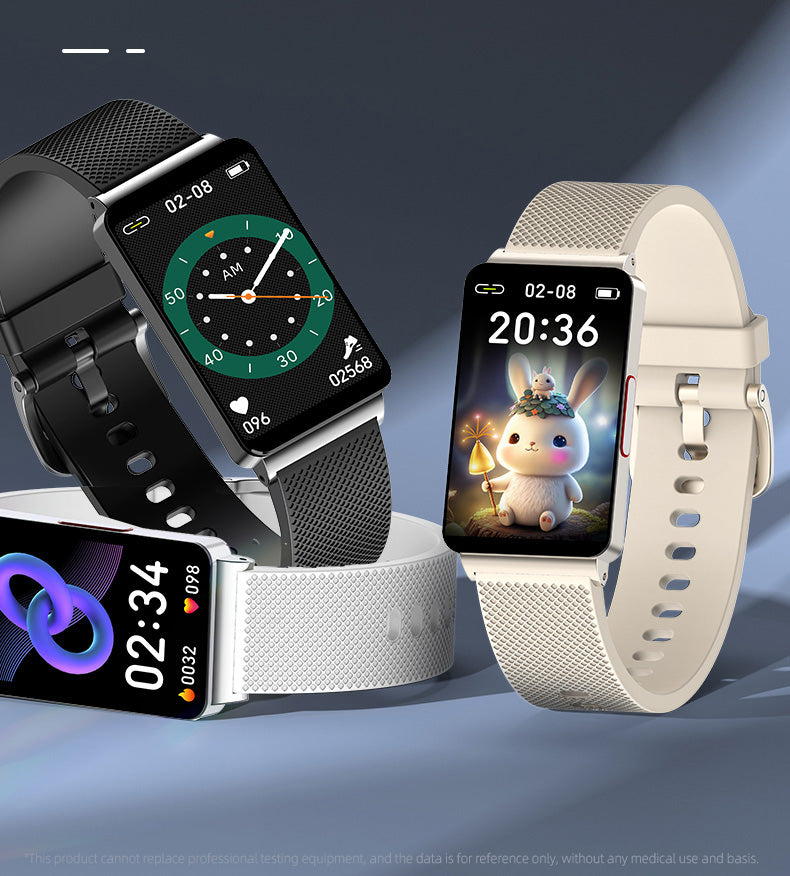 Protectionblood glucose
Protect the healthof blood glucose
People with high blood glucose will have symptoms suchas rapid heartbeat and thirst in the early stage, as well asincreased urination, nausea and indigestion. Failure tocontrol blood glucose in time will lead to diabetes. Diabetesis a chronic metabolic disease that often requires lifelongmedication.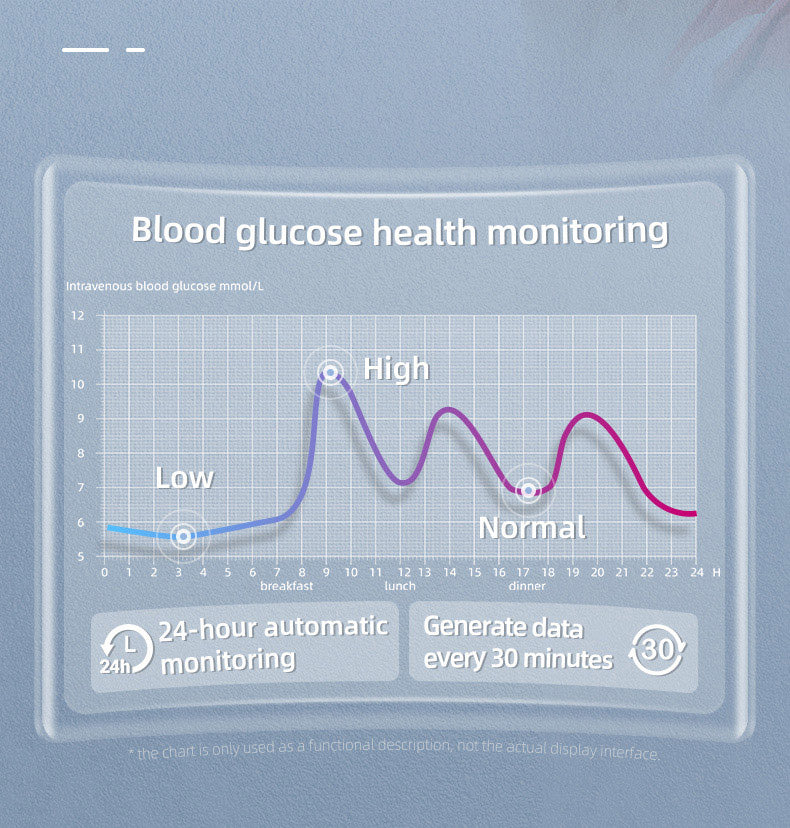 One bondside measure
One-click bloodglucose measurement
Easy to operate,No blood collection, continuous
measurement, keep track of your physical condition atany time, and escort your health.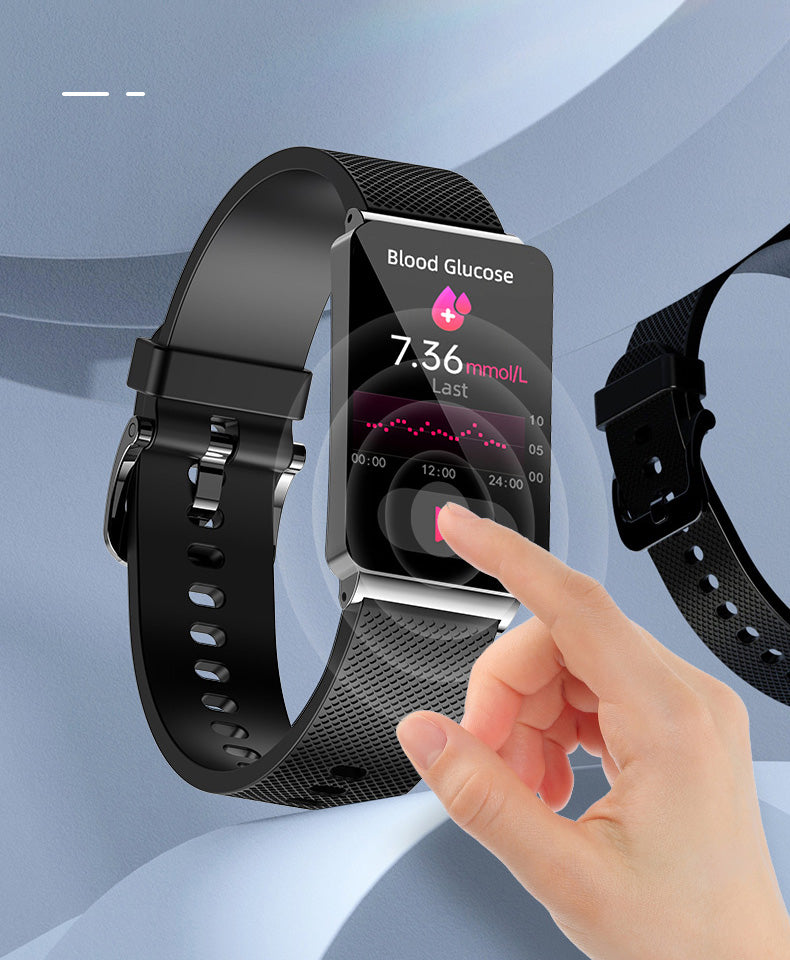 Private mode
Blood glucose privatemode
Your personal bleod glucose mode,Set your personalblood gluco mode to get more accurate data.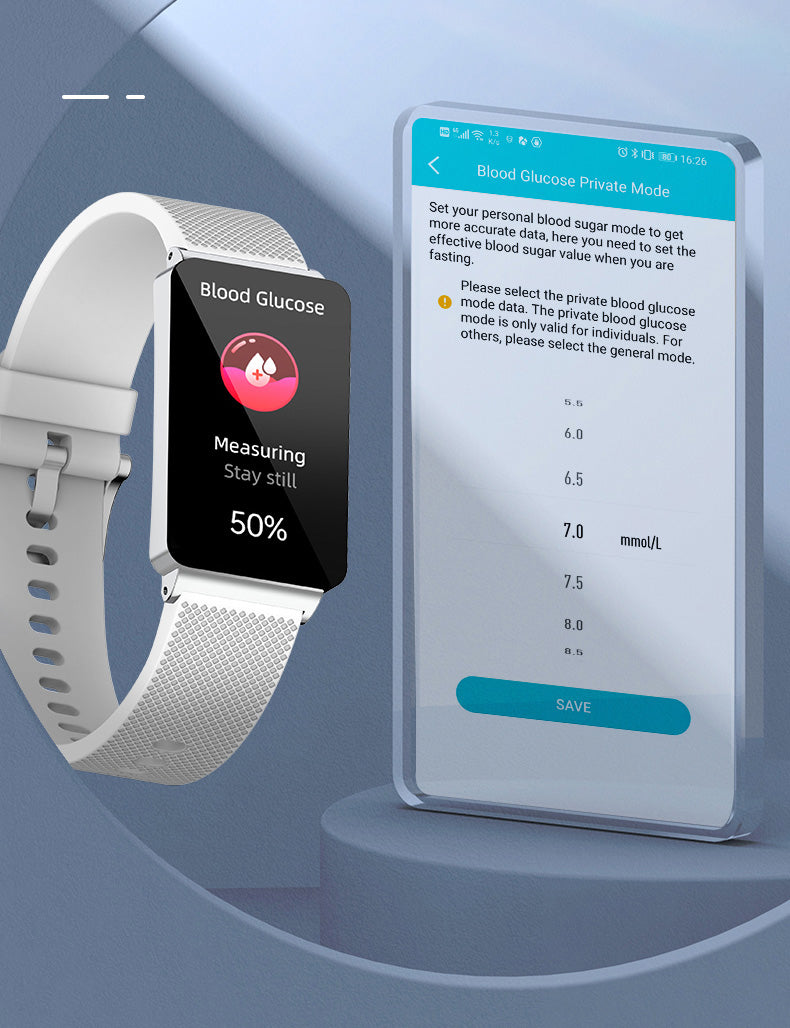 Health consultant
Your health counselor
Focus on health 24 hoursa day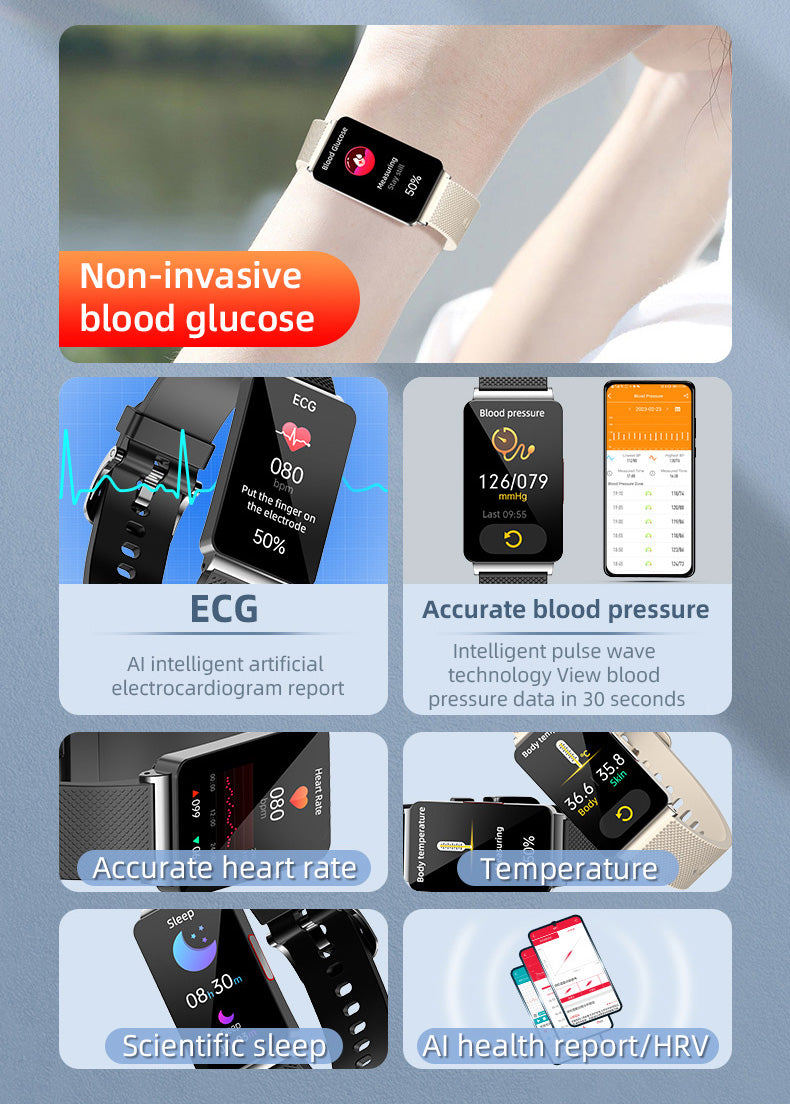 Core technology
Core technology
GR5515 Intelligentcontrol chip
High-level production technology and raw materials,stronger processing performance and more accuratefor obtain data.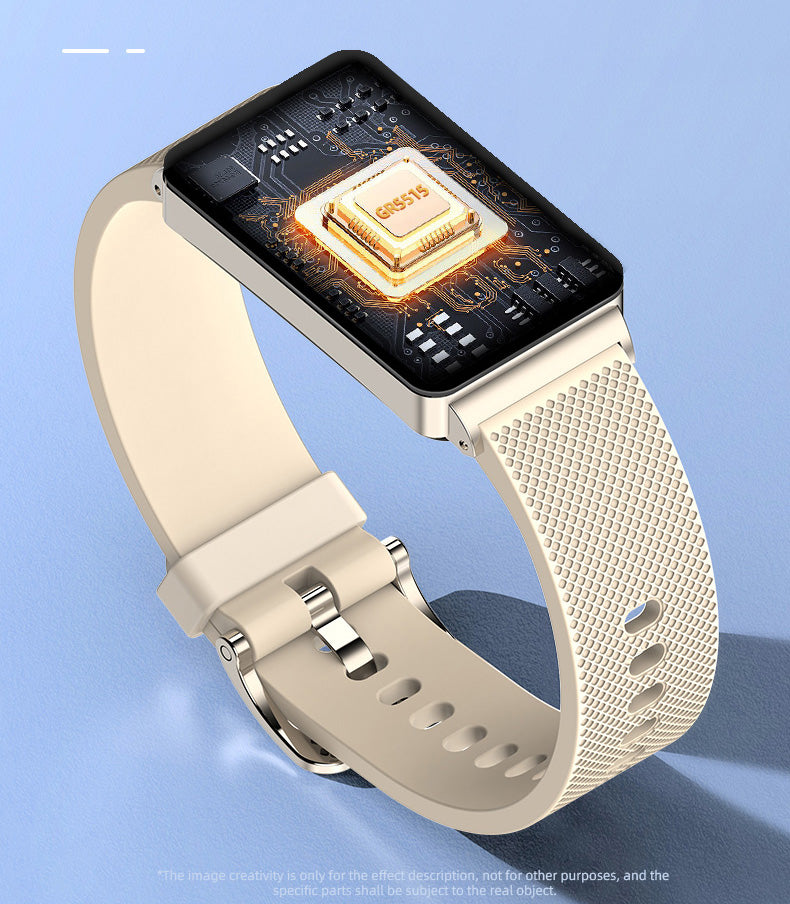 ECG monitoring
ECG testing
Heart AbnormalityTest
Utilizing ECG sensor and adopting superconducting powdermetallurgy technology according to lead I standard,Collectthe ECG waveform of the heart. The same principle as theECG detection in hospitals help users find abnormalitiesin time and assess sudden risks.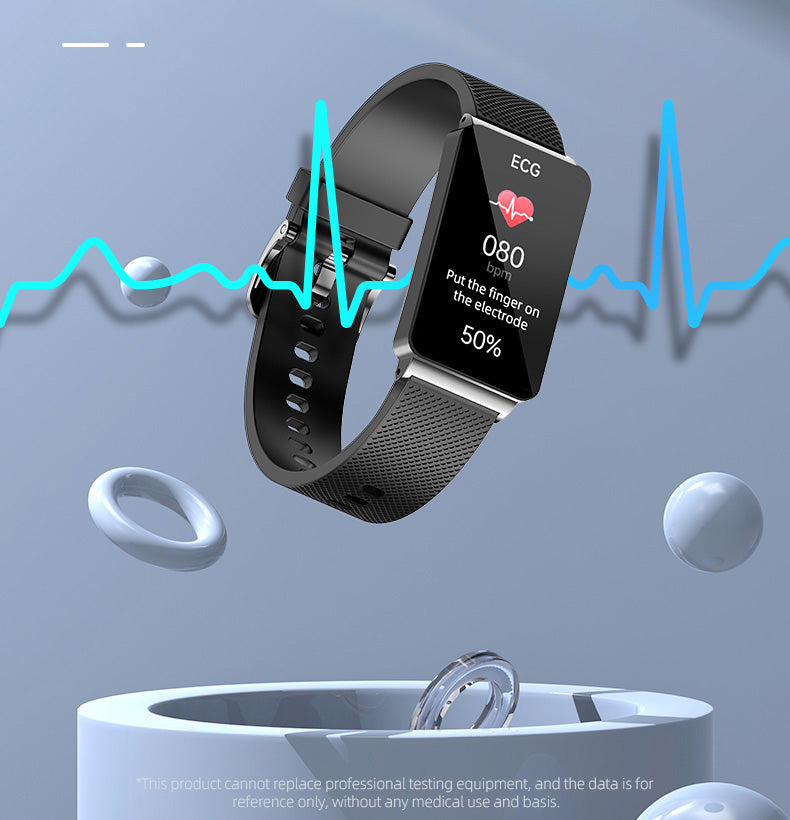 Disease screening
ECG Disease SymptomScreening&HRVLorenz Scatter
Multiple electrocardiogram disease screening, he rt halthindex, Lorentz scatter plot. Analysis report, HRV d tamonitoring, APP can view the report the whole pKnow more about heart health.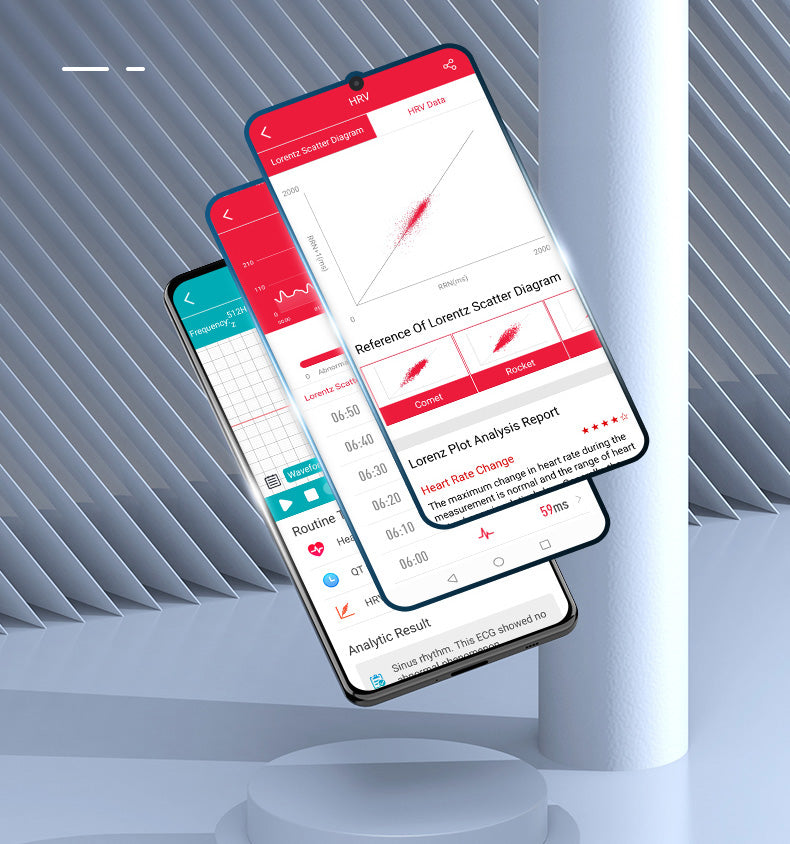 Blood oxygen
Infrared light for measure
blood oxygen, Lung health isseen every day
Blood oxygen saturation (SpO2) is the capacity of the bloodto combine oxygen and hemoglobin percentage of totalhemoglobin capacity.The concentration of blood oxygenin the blood. knowing blood oxygenLevel be better for us tounderstand our health and improve our health.Mentalworkers, snoring crowds, elderly people, need frequentlytest blood oxygen.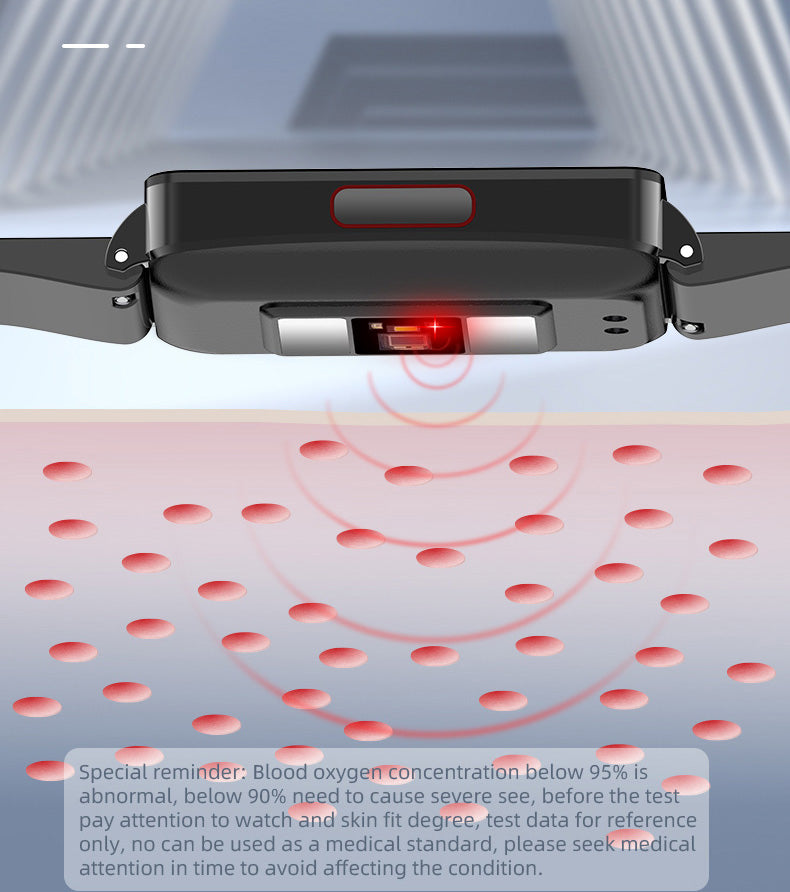 Heart rate
24-hour heart ratemonitoring
Always pay attentjonto health
24-hour heart rate monitoring, real-time heartrate monitoring, higher heart rate warning, alwaystake care of your health, you can check specificdata on the APP.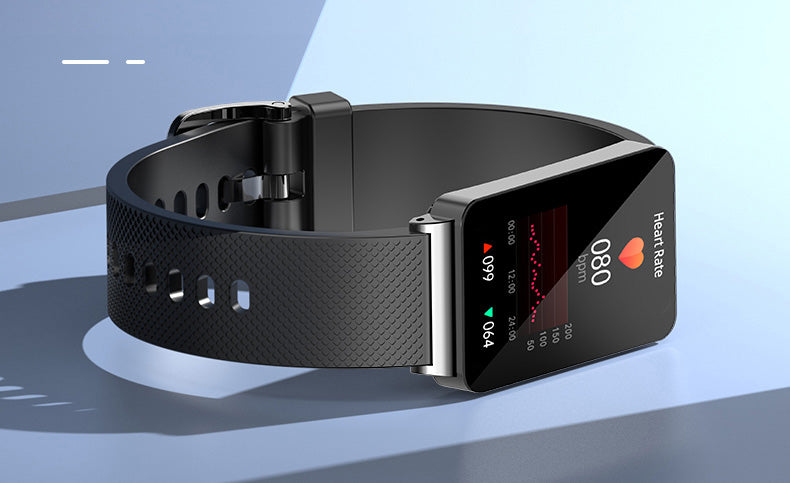 Body temperature
Automatic temperaturemonitoring, Keep abreastof physical changes
Automatically generate measurement curve, dynamicchange at a glance, physical signs change for 10 secondsPredict, support automatic measurement, APP
automatically upload and record the last measurement value,Be aware of health changes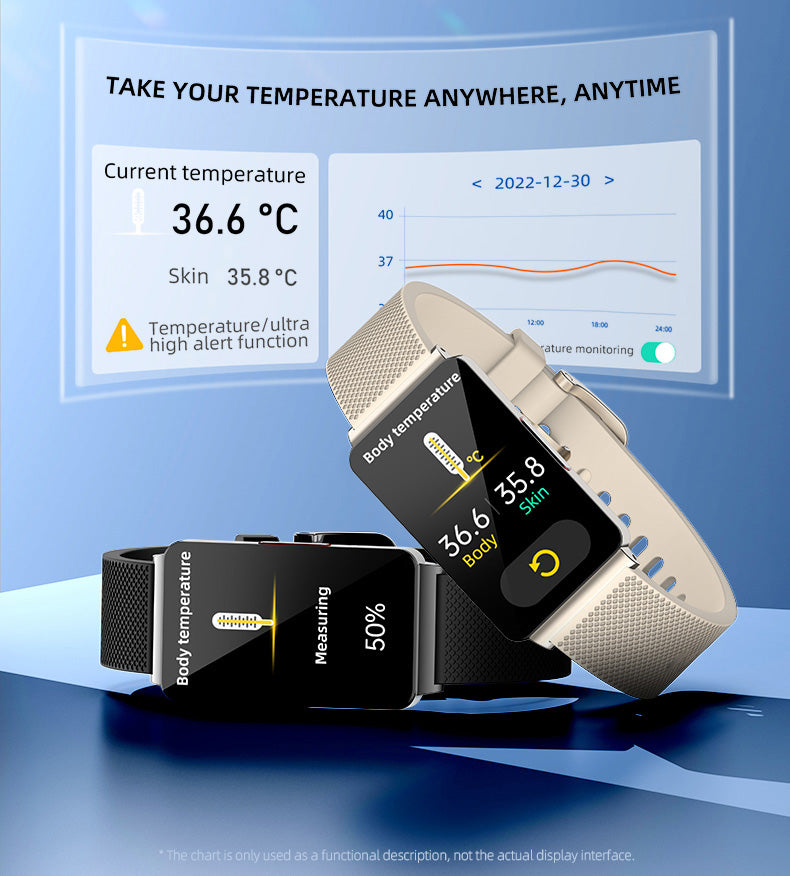 Sleep monitoring
Scientific sleepmonitoringDeep sleep analysis
Professional field of sleep monitor;collect humanbody through uninterrupted PG signal\ respiratoryquality\ limb information, based on a comparativetest of a large amount of data,Recognize sleepstatus with higher accuracy.every minute/ lightwake up /and wake up with detall specificationfor your improve sleep.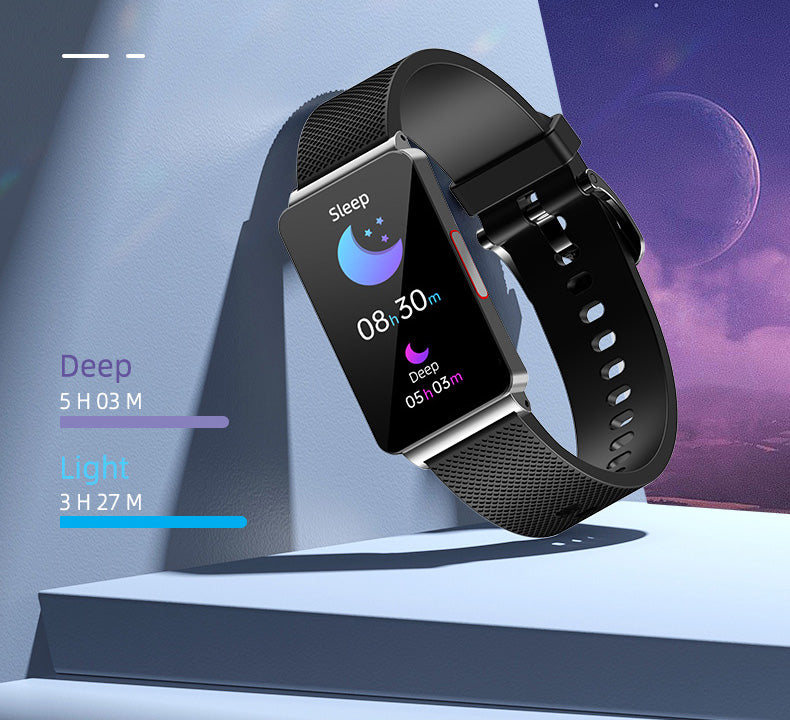 Sport mode
Multiple sports modesFast burning of fat
Support 20 exercise modes, record your time and heartrate during exercise,Calorie and other data, scientificallyadjust the state of exercise.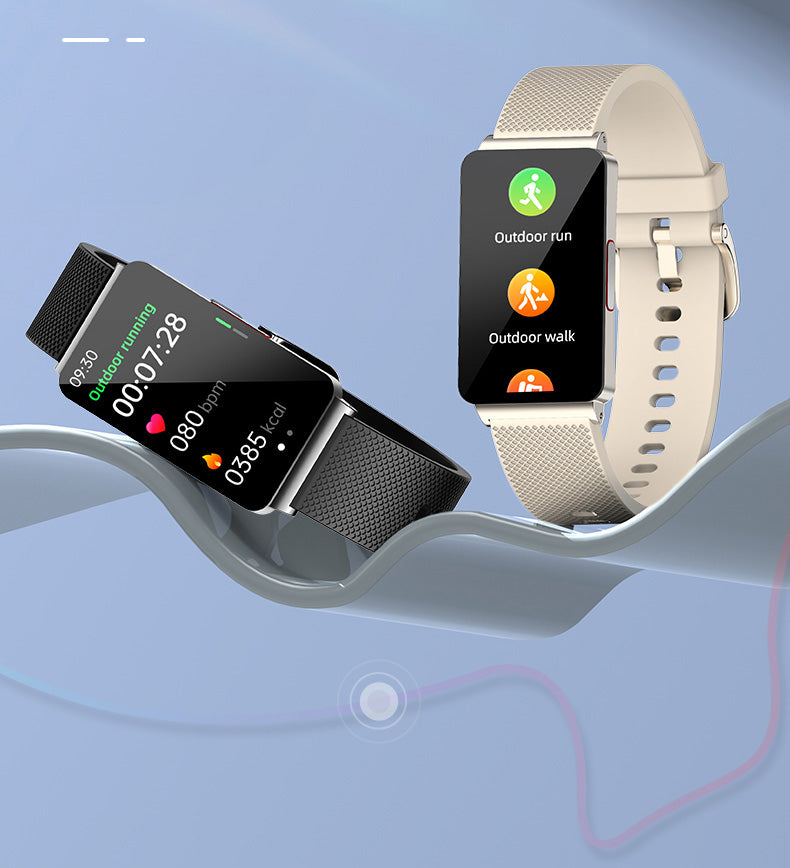 Magnetic charging
15 days battery lifeIntelligent powerconsumption algorithm
Adopt large-capacity battery and intelligent power
consumption algorithm to maximize power consumption,typical use situation can be last for 15 days, keep easyand happy every day.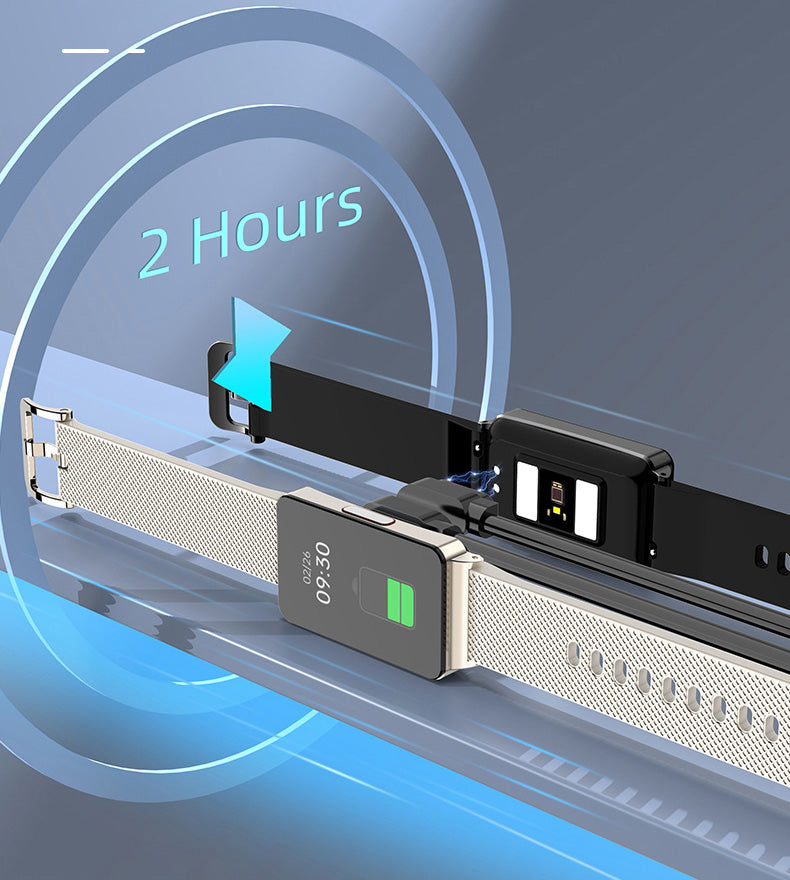 IP67 waterproof
IP67 dustproof andwaterproofWear worry-free
Match the waterproof requirements of life and sports, sweat,raindrops or splashes.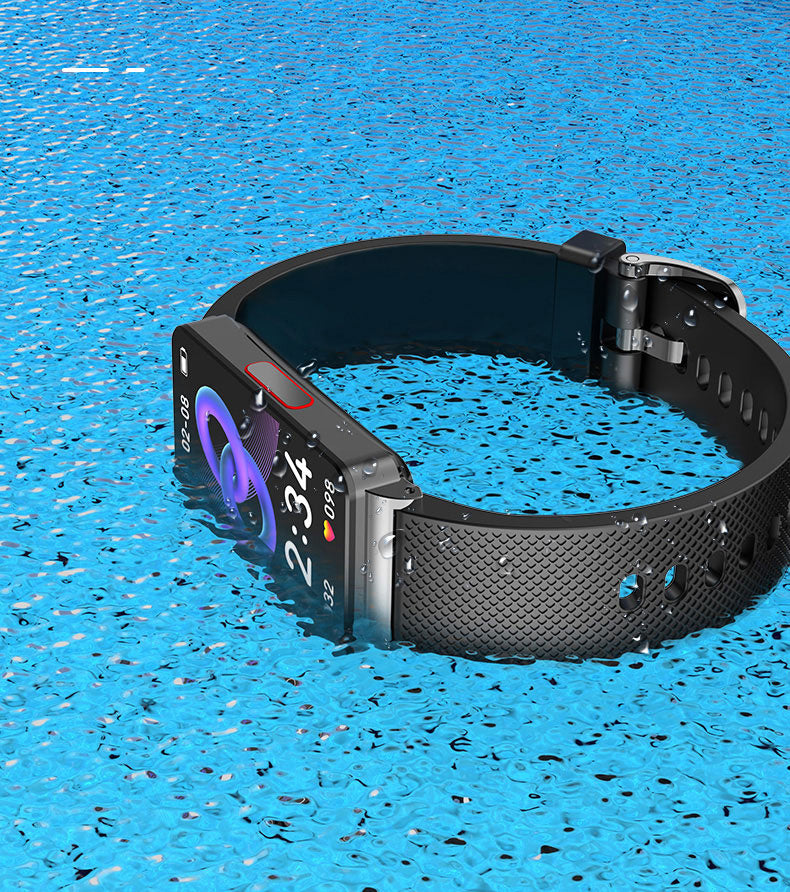 Female cycle
Female cycle
Care for women'shealth
Save personal information as women this function can beset according to personal circumstances.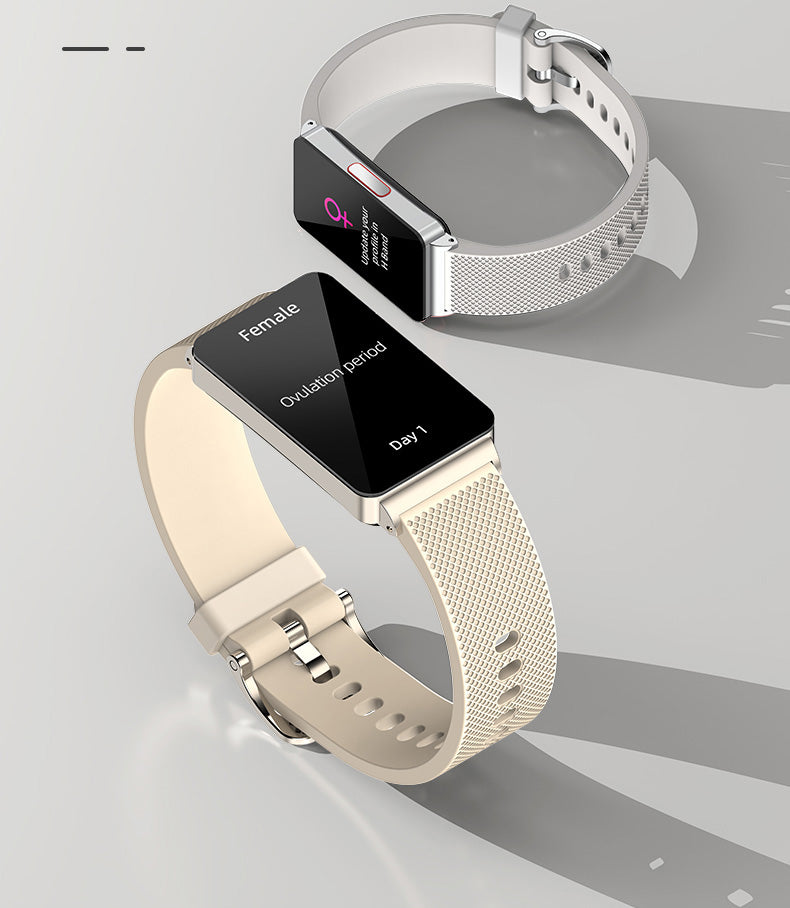 Color matching
Color matchRich and colorful life
A variety of colors, will highlight your temperament.